Get the facts about APSCUF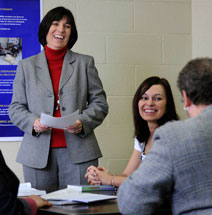 Educating Pennsylvania
The Association of PA State College and University Faculties is the professional organization representing over 6,000 faculty and coaches at the state's fourteen publicly owned universities.
APSCUF is committed to advancing policies that support our institutions, students, and faculty members and fulfill the State System's mission to provide a high quality education at the lowest possible cost to students.
PASSHE institutions have consistently ranked among the top public universities in the nation. Both Kiplinger's Personal Finance magazine and U.S News & World Report consistently include our institutions among their rankings of top regional public universities.
Almost 120,000 students are currently enrolled in the fourteen State System universities.
The fourteen State System universities have been good stewards of public resources and remain the most affordable four-year college options in Pennsylvania.
Many of our students are the first in their families to go to college. APSCUF faculty and coaches strive to ensure that our students continue to have access to a quality education at an affordable price.
The 14 State System universities offer degree and certificate programs in more than 120 areas of study.
Economic impact oF PA's public universities
Our universities contribute billions of dollars to Pennsylvania's economy.
For every $1 invested in State System universities, we return $6 in economic impact.
State System universities are actively involved in both local and regional economic development efforts throughout the Commonwealth, offering workforce development and training opportunities to employers and their employees, as well as small business development assistance to both budding and established entrepreneurs.
More than 500,000 State System alumni live and work in Pennsylvania.
About 80 percent of State System alumni remain in Pennsylvania after graduation. State System colleges and universities are responsible for more than 41,000 full- and part-time jobs across the Commonwealth.
Nine of our universities rank among the top 10 employers in their respective counties.
With nearly 120,000 students, the Pennsylvania State System of Higher Education is the largest provider of higher education in the Commonwealth.
One in 34 Pennsylvania citizens is attending or has graduated from a State System college or university.