Need forms or policies for university-wide committees? Look in the righthand column under CLARION DOCUMENTS and click onto "document center" for the link or click HERE.
WELCOME!

Welcome to the APSCUF-Clarion website, another tool to enable our members to participate and communicate. APSCUF, the voice of the faculty and coaches here at Clarion University, upholds the highest standards of teaching, scholarly inquiry, and service. We are an organization committed to promoting excellence in all we do to ensure our students receive the highest quality education.

If you are not yet a member, please join us in our efforts. APSCUF is the sole voice for protecting the rights of faculty and coaches. Be a member — and be an active and contributing member. Signup and get involved today!

In solidarity,

Ray Feroz, Chapter President
 FALL 2018 CLARION APSCUF SCHOLARSHIP WINNERS!!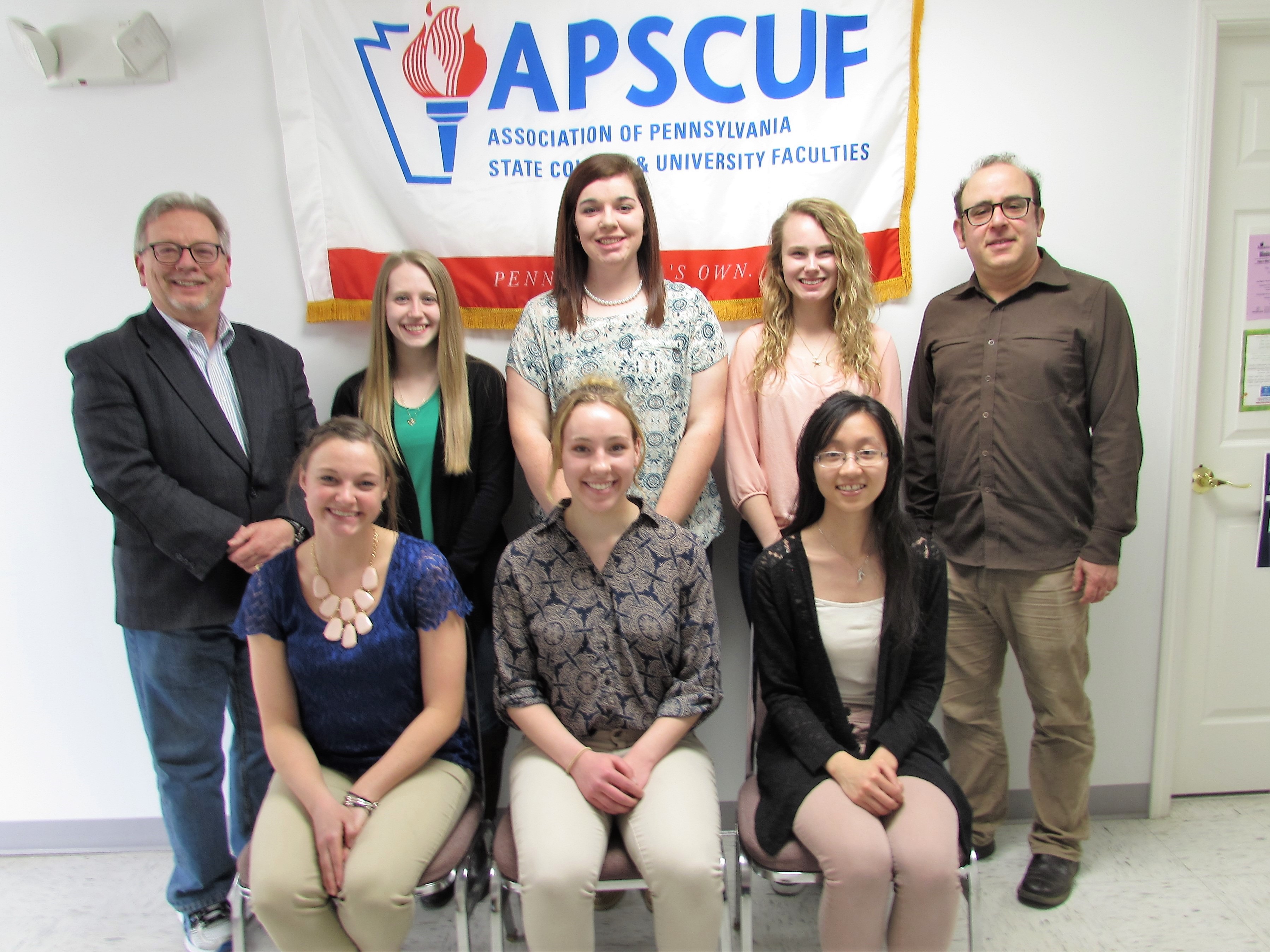 Front LR: Alivia Shuttleworth, Hannah Phillips, Jia Zhu
Back LR: Chapter President Dr. Ray Feroz, Jordyn Wilson, Hannah Drass, Katharine Gannon, Committee Member Dr. Jeffrey Diamond
CONGRATULATIONS to the following APSCUF Scholarship winners who were awarded $500 each for the Fall 2018 semester. The six recipients were chosen out of 41 applications submitted by currently enrolled Clarion University students throughout campus. The criteria used to select the recipients include a minimum QPA of a 3.2, participation and leadership in campus and community service organizations, and submission of a one-page narrative outlining goals and objectives for the future.
Members of the Clarion APSCUF Scholarship Committee are Dr. Simon Aristeguieta, Dr. Todd Lavin and Dr. Jeffrey Diamond.  These scholarships has been made possible by the faculty and coaches members of APSCUF.
APSCUF Child – Hannah Phillips (Biology)
Graduate – Hannah Drass (Speech Language Pathology)
Senior – Katharine Gannon (Speech Pathology & Audiology)
Junior – Alivia Shuttleworth (Biology/Pre-Veterinarian)
Freshman/Sophomore – Jia Zhu (Chemistry)
At Large – Jordyn Wilson (Speech Language Pathology)
             HAPPY RETIREMENT!!
Best Wishes to our 2017-2018 Retirees
 Ms. Linda Cheresnowski, Libraries
 Dr. Greg Clary, Special Education
 Ms. Nancy Clemente, Libraries
 Dr. Robert Frakes, Social Sciences
 Dr. Mary Jo Reef, Social Sciences
 Dr. Bruce Smith, Education
 Dr. Joseph Wyatt, Computer Information Science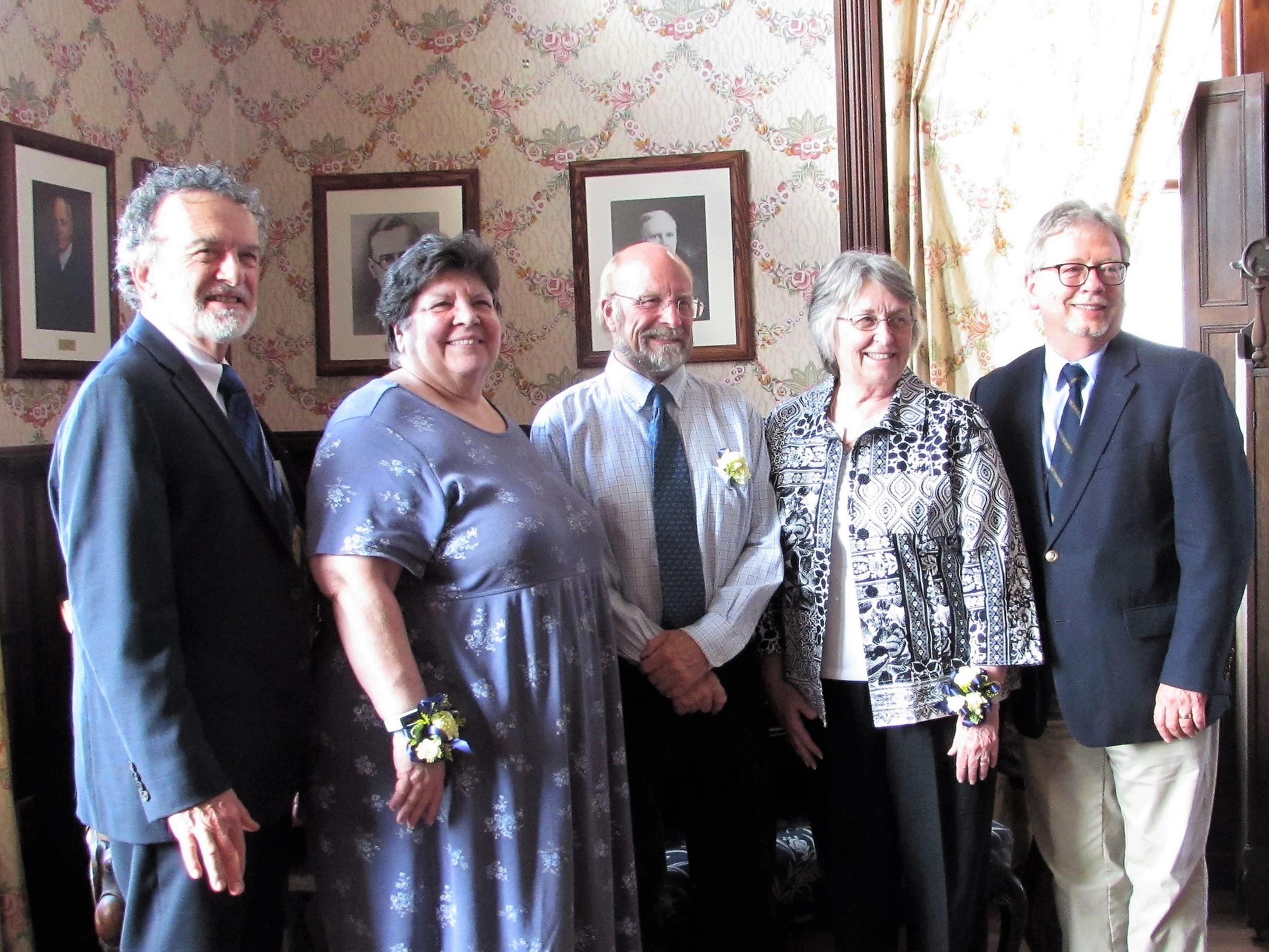 LR: President Pete Fackler, Nancy Clemente, Bruce Smith,
Linda Cheresnowski, Chapter President Ray Feroz
Clarion APSCUF Position Statement on the "Historic" Workforce Plan from October 28, 2013
APSCUF is the union that represents faculty members at all 14 of the Pennsylvania State System Universities. Clarion University's chapter of APSCUF wants the university to continue to be a leader in providing affordable, high quality education to our students. We believe that the Workforce Plan proposed by President Karen Whitney will compromise that high quality. Instead of cutting programs, we should be providing students with the quality liberal arts education they deserve and promoting the University's strengths. Therefore, we strongly oppose this plan.
Clarion University's mission to offer students "transformative, lifelong learning opportunities through innovative, nationally recognized programs delivered in inclusive, student-centered environments" can only be realized by the faculty. The unprecedented loss of faculty and programs would strike a blow to the very core of any university and will likely have long term consequences for Clarion University and the surrounding communities.
At first glance, it may appear only that 22 faculty are losing their jobs when in fact more is being lost than positions. Students will lose the expertise, mentoring, and professional leadership that faculty willingly provide. The elimination of support programs specifically designed to foster academic success will hurt struggling students. Cutting academic programs will diminish students' opportunities to develop into creative and productive members of society and will limit their career opportunities.
Clarion's current and future students deserve to receive a high quality education. APSCUF faculty will fight to protect the University's academic integrity and the livelihoods of those who provide a quality education. We pledge to fight to keep Clarion University a first-class institution of higher learning.
APSCUF LEADERSHIP OFFICERS
COMMITTEES
APSCUF-Clarion would like to thank our dedicated committee members for we couldn't make such an impact without your hard work!
UPCOMING MEETINGS for SPRING 2018
Tuesday, January 30 @ 3:30 pm – Executive Committee
Friday, February 2 @ 2:30 pm – Pre-Meet & Discuss
Tuesday, February 6 @ 3:30 pm – Departmental Representative Council
February 8-10, 2018 – APSCUF Legislative Assembly (Wyndham, Gettysburg, PA)
Tuesday, February 13 @ 3:30 pm – Executive Committee
Tuesday, February 20 @ 2:30 pm – Meet & Discuss (Rhea)
Tuesday, March 6 @ 3:30 pm – Departmental Representative Council
Friday, March 9 @ 2:20 pm – Pre-Meet & Discuss
Friday, March 9 – Campus Visit by Sara Milller, APSCUF Labor Relations Dept.
Tuesday, March 20 @ 3:30 pm – Executive Committee
Friday, March 23 @ 2:30 pm – Meet & Discuss (Carrier)
Tuesday, March 27, 2018 @ 3:30 pm – General Membership Meeting – "Meet the Candidates" Forum
Tuesday, March 27, 2018 @ 3:30 pm – Campus visit by APSCUF Pres. Ken Mash
Tuesday, April 3 @ 3:30 pm – Executive Committee
Friday, April 6 @ 2:30 pm – Pre-Meet & Discuss
Tuesday, April 10 @ 3:30 pm – Departmental Representative Council
April 12-14, 2018 – APSCUF Legislative Assembly (Toftrees, State College, PA)
Tuesday, April 17 @ 3:30 pm – Executive Committee
Tuesday, April 17 – General Spring Elections (9:00 am till 4:00 pm)
Friday, April 20 @ 2:30 pm – Meet & Discuss (Rhea)
Tuesday, May 1 @ 3:30 pm – Executive Committee
For a wide variety of information and documents, including contract information, healthcare information, Clarion University policies and more, check out our documentation center.
Check out Clarion APSCUF's photos on our Facebook Page. Click HERE. 
CLARION APSCUF is PROUD to support the following:
Clarion University Athletic Corporate Sponsorship
Clarion University Golf Classic
Clarion University Academic Excellence Series
Clarion County YMCA
Clarion Little League
Partners in Teaching
Contact CU
Phone: 814-227-2420
Fax: 814-227-2429
Address: Rhea Building
840 Wood St.
Clarion University
Clarion, PA 16214
Chapter President
Ray Feroz
Office Manager
Jan Walters