Register by April 19 to learn how you can make a difference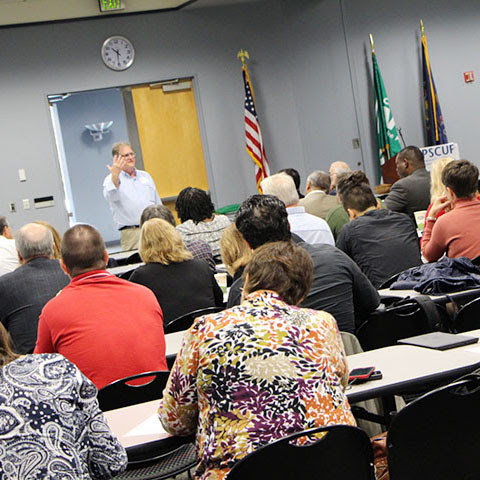 Decades ago, our APSCUF predecessors made the choice to be a member-run association rather than a staff-led one. That wise decision means we depend heavily on our colleagues' desire to learn about how our association operates, willingness to be informed about our contracts, and their ability to give of their time, energy, and talent.
There are many opportunities for APSCUF service. Some are out front, and some are more behind-the-scenes. Some require a serious commitment of time, and others require far less. Some require specialized skill, and others are more general. Many are on the campuses, and some are on the state level. The bottom line is that we need each other. We are constantly on the lookout for those who want to be change-makers who better the lives of their colleagues, their students, the universities, and the State System. You can be in a position to make a difference.
APSCUF's Leadership Institute is a great opportunity for interested members to meet current APSCUF state officers, to learn more about the association, to discover opportunities for participation, and to meet other faculty interested in shaping the future of APSCUF and the future of higher education.
The goal of the Leadership Institute is to connect with members who are interested in getting involved or becoming more involved. Please come — even if you are just curious!
APSCUF is your association. Please come to learn how you can make a difference on Friday, May 17, at Slippery Rock University!
If you are able to join us, please register by April 19, 2019, by contacting your APSCUF chapter office manager. APSCUF covers meals and travel expenses, including if you need to stay overnight.
If you have any questions, please contact us at 1-800-932-0587 ext. 4 or amahoney@apscuf.org.
—Dr. Kenneth M. Mash
president
Photo: APSCUF President Ken Mash welcomes participants to leadership training in 2015. File photo
Moved? Let your chapter office know
If your residential address, email, name, or other personal information has changed, please let your chapter office know immediately, so we can update your record in the APSCUF database. You'll also need to notify the PA Faculty Health and Welfare Fund know about address changes; please contact your office manager or State APSCUF's membership-services director (800-932-0587, ext. 3021) for a form.
Protect your paycheck: Register for ESS alerts
After a series of phishing schemes resulted in a loss of several State System employees' pay checks, APSCUF requested the System develop an employee self-service (ESS) alert system to notify faculty and coaches when their account is accessed or changes made. The Office of the Chancellor has initiated an optional email/text alert system. With the ongoing threats and the State System's policy of not reimbursing stolen compensation, we encourage you to activate email/text account alerts for your the ESS account. Click here to download the State System's step-by-step information for setting up your alerts.
Register for the APSCUF website
In 2016, APSCUF upgraded the members-only section, incorporating members-only content into secure sections of the website. If you have not logged into the APSCUF website since we switched to the new site, you may need to create a new account. After registering, it may take about 24 hours to activate your account, while we verify your APSCUF membership. Thank you for your patience.
Member Publications
APSCUF invites its members to share complimentary copies of published works for inclusion in the APSCUF member library at the state office. If you have books, articles and/or recordings (performed or directed by APSCUF members), please submit them to:
APSCUF
319 N. Front Street
Harrisburg, PA 17101
You will receive a letter of appreciation to acknowledge your gift. We hope to continue to grow this library of faculty works to acknowledge the academic excellence of APSCUF faculty.
APSCUF Update newsletters
APSCUF sends its biweekly electronic newsletter to full members at their campus email addresses. You can view past issues on this members-only page. (Click here to register for the APSCUF website or here to log in.)
If you are not receiving the APSCUF Update, email qualityeducation@apscuf.org. Need to become a full member? Click here.
Embroidered APSCUF garments
Want to expand your APSCUF wardrobe? Choose from dozens of men's, women's, and unisex styles that can be embroidered with the APSCUF logo at TheUnionShop.org. Click here to learn more.
Faculty and coaches orientation internship
APSCUF's faculty and coaches orientation internship is for APSCUF members who have some local APSCUF responsibility and are interested in expanding a working knowledge of the union. Interns spend a week in the summer in the Harrisburg office to observe the entire spectrum of union administration. They interact with staff members who serve in various capacities. The program aims to prepare APSCUF members for increased local and/or state responsibilities. Click here to download an application and more information about hotels, travel, and meals. Questions? Email Andrea Mahoney at amahoney@apscuf.org.