The buzz amongst the crowd started growing from the moment we announced to the APSCUF membership that we were endorsing in the 2014 gubernatorial election. Tom Wolf entered the room to an electrified room filled with enthusiastic professors and coaches.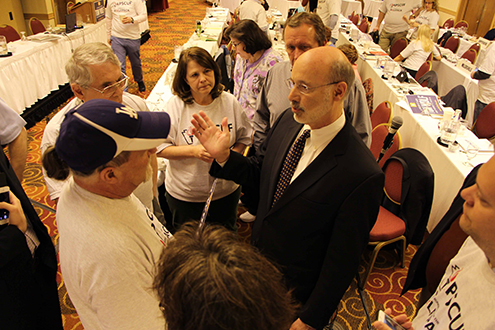 Tom regaled the audience with tales of his time as a graduate teaching assistant at MIT and explained how he feels higher education can be used as the engine that drives future business development in Pennsylvania.
Wolf said he was excited to stand before the professors at the 14 state-owned universities and speak about how important it is for graduates of Pennsylvania universities to stay in the state. On average, about 80 percent of PASSHE graduates remain in the PA after completing their degrees.
Every four years, APSCUF has the opportunity to consider candidates for governor in the endorsement process. This year's gubernatorial election is a high priority for APSCUF, as we all know how much damage the Corbett administration has done in the last three years. APSCUF is proud to stand behind Tom Wolf in the 2014 race for Pennsylvania Governor.