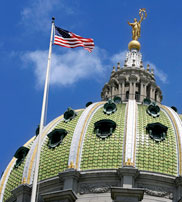 APSCUF faculty and coaches are advocates for quality public higher education in Pennsylvania. Our organization closely monitors legislative initiatives and state policies that affect our members, our students, and our universities. Sign up for our blog to receive the most up-to-date legislative information.
Please use the "Issues & Advocacy" dropdown menu to navigate to topics of interest.
Members: Our 2023 legislative events are scheduled for April 24–25. Click here (login required) for more information and to register.
Students: We post advocacy opportunities for students on our Students page. Click here to submit your information, so we can contact you, when such activities arise.