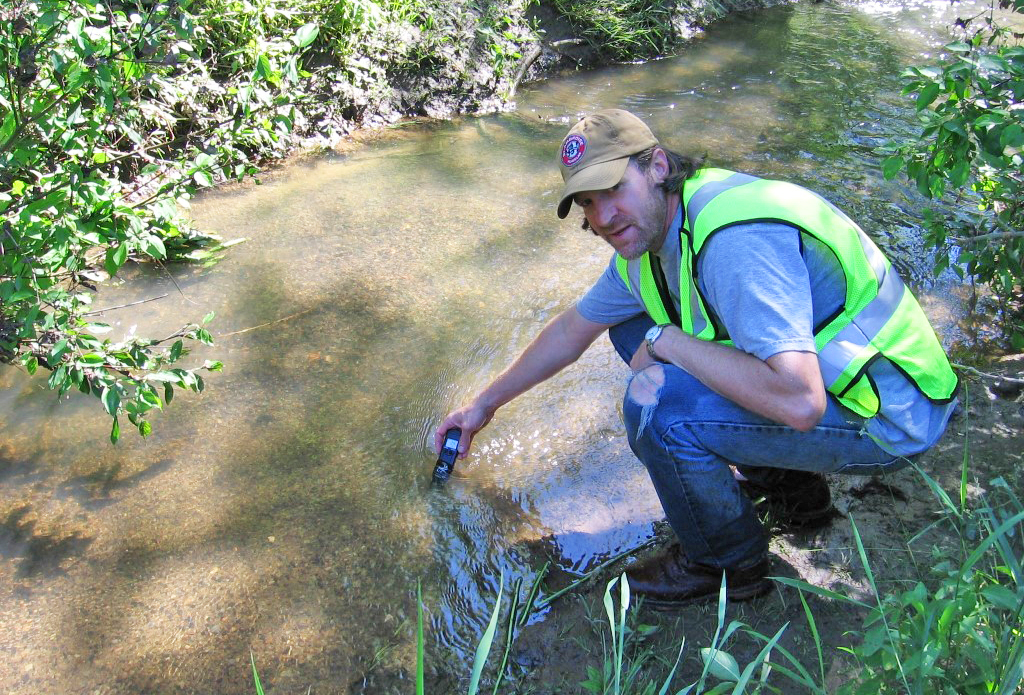 Dr. Brian Okey, associate professor in Indiana University of Pennsylvania, tests water near Beaver Run Reservoir. Photo courtesy of Brian Okey.
Last summer, APSCUF went behind the scenes to show how faculty members and coaches continue to devote themselves to affordable, quality education even when class is not in session. This post is a continuation of that series.
As an associate professor in Indiana University of Pennsylvania's department of geography and regional planning, Dr. Brian Okey spends much of his time outside the classroom.
"My emphasis has always been on environmental issues, more specifically, resource issues," Okey said.
When concerns began to rise about the negative effects Marcellus Shale gas-well drilling might have on the water supply of Beaver Run Reservoir, Okey got involved.
Okey and colleague Nate McElroy began collaborating with the Municipal Authority of Westmoreland County on the Beaver Run Project in 2011. The project monitors the quality of water around Beaver Run Reservoir, a source of water for around 130,000 people.
The project employs roughly half a dozen students — undergraduate and graduate — each year.
"The project feeds into classroom teaching, while providing employment and practical experience for students," Okey said.
The team of faculty and students goes out to the sites quarterly to sample the water. This is done usually throughout three days, typically on weekends to accommodate everyone's schedule. A normal day of sampling takes between four to six hours, Okey said.
"There is a lot of rigorous hiking throughout the trails to get to the site," he said. "It's very physically demanding."
Aside from the hours onsite, the project requires upkeep on the field data and equipment. Okey and his students work with geographic systems to maintain maps and other information.
Students also have an opportunity to gain experience abroad. Okey and colleague Sudeshna Ghosh developed courses with the department of architecture and regional planning at Indian Institute of Technology, Kharagpur, to bring students to India to collect field data. This past June, the team gathered information about the water quality in the wetlands east of Kolkata. This region is a vital source of fish and vegetables for the citizens, Okey said.
Okey is also part of a nonprofit group called the Altman Watershed Association for Restoring the Environment, of which he is the former president. The group works to protect streams from coal mining, is constructing a rail trail, and it participates in an annual trash cleanup.
This outside work can be translated back to the classroom learning experience for the students, Okey said.
—Lindsey Newton, APSCUF intern