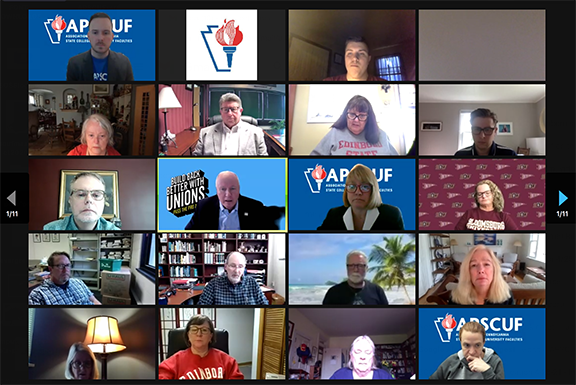 Rick Bloomingdale, third row, second from left, shares a message of solidarity with APSCUF. He is president of Pennsylvania AFL-CIO. Photo/APSCUF
After Chancellor Daniel Greenstein presented university-consolidation plans at Wednesday morning's special Board of Governors meeting, APSCUF members and other advocates leapt into a Day of Action to strategize how stakeholders can make their voices heard.
APSCUF faculty, coaches and retirees began with a members-only meeting to discuss concerns about the plan, many of which Dr. Sam Claster, an Edinboro University APSCUF officer, voiced in his comments to the Board of Governors. Members may log into the APSCUF website to view a members-only toolkit containing contact information, talking points, research, links to news articles and other advocacy resources.
Save Our State Schools (a growing coalition of students and families, staff, coaches and faculty, and local business owners working together to protect State System universities and the communities that host them) presented a streamed event to discuss advocacy surrounding the plan. Register for SOSS email alerts to hear directly from them. PA Publics, a group of alumni and friends fighting for a flourishing State System, described its work and ideas for future action.
A 4 p.m. rally and press conference attracted more than 200 members, students, representatives from other labor unions, staff and reporters. Special thanks to guest speakers Rick Bloomingdale, president of Pennsylvania AFL-CIO; David Henderson, executive director of Council 13 of the American Federation of State, County and Municipal Employees; and Kyle Schlecht, Lock Haven University student. Click here to watch the event recording.
To learn more about consolidation and APSCUF concerns, as well as for details about how students, alumni and other stakeholders can take action, visit the consolidation area of APSCUF's Students page. APSCUF will continue to update the page as we delve deeper into the State System's 439-page consolidation report.
As the day wound down, APSCUF President Dr. Jamie Martin issued the following statement:
"We were disappointed by the lack of detail in the 439-page report presented to the Board of Governors today. The State System's consolidation plans fail to address many questions and concerns stakeholders raised throughout the 10 months before the plans' release. Questions remain about forced hybrid learning for our students, whether our student-athletes' teams will exist, and the economic community impacts, for example. What we did learn from the plans is that the costs of consolidation are much greater than the savings that will be realized. We were shocked by this. Given the lack of detail and unanswered questions, and the lack of any financial savings, APSCUF cannot endorse or support these consolidation plans." —APSCUF President Dr. Jamie Martin