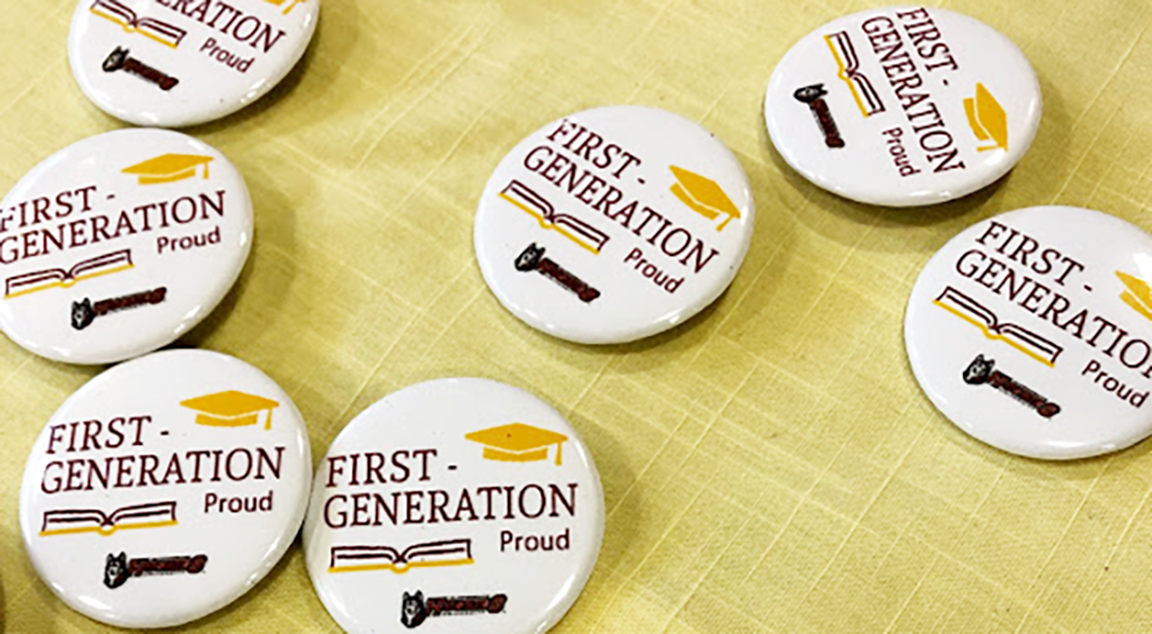 Students, staff, and faculty who identify as first-generation can wear these wear distinguishing buttons to create visibility for first-generation students and pinpoint people to talk to. Photos courtesy of Rebecca L. Willoughby 
Rebecca L. Willoughby understands what many of her students are going through as they transition to college. The Bloomsburg University adjunct professor felt invisible when she was a first-generation student on that campus, she said, and during her undergraduate career, she wasn't even aware of the term "first-generation college student" or resources available to her.
Willoughby said she sees parallels between her time as an undergraduate and the students in her classroom now. Looking over her class of freshmen, she said she thinks, "I was in your chair." Like herself, many students are also unaware they are first-generation college students and unaware of national and campus resources.
So she decided to change that.
Since fall 2018, Willoughby has worked with TRiO Student Support Services' Director M. Theresa Bloskey and fellow faculty member Kristin Austin of the Department of Teaching and Learning to raise awareness through tabling and button distribution. The overall goal: "(to) make (first-generation) students feel comfortable and recognized on campus," Willoughby said.
The effort encourages students, staff, and faculty who identify as first-generation to wear distinguishing buttons. Willoughby said they create visibility for first-generation students and pinpoint people to talk to.
"(The campaign) creates avenues of communication to help navigate the landscape," Willoughby said.
Willoughby said she is glad other faculty members have been excited about the campaign.
"Faculty are the first line of defense (for students)," Willoughby said.
The transition from student to faculty member in the English department has been interesting, Willoughby said, as she is now colleagues with some of her former professors.
"It's been a pleasure to work with those people," Willoughby said.
As Willoughby works to help students succeed in college, she is able to reflect on her time in higher education and at Bloomsburg — including the challenges.
"Anyone as an adjunct knows its insane," Willoughby said. In the past, she taught at three separate universities during one semester alone. However, she said her adjunct experience has been better at Bloomsburg: She joined her union and said she feels included in the department.
Willoughby said her hope is that the first-generation button campaign expands to other State System institutions and universities across the Commonwealth. She recommended faculty visit the Council for Opportunity in Education for resources.
—Abbey Ford, APSCUF summer intern