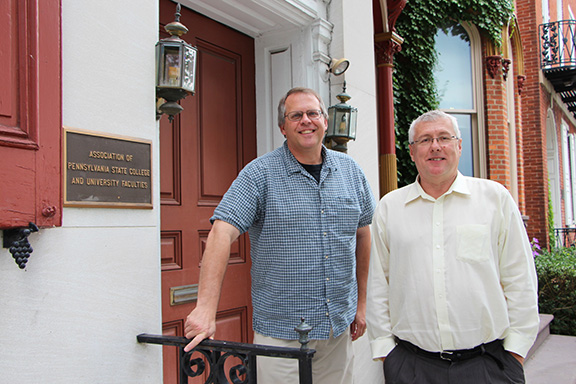 New Coach Executive Leader John Gump, left, and former CEL Keith White outside the APSCUF office in Harrisburg. Photo/Kathryn Morton
Coach Keith White knew something needed to change — for him at Kutztown University and for the other coaches in the Pennsylvania State System of Higher Education. Coaches lacked formal representation, and he was shocked to see a number of quality State System coaches being let go for no apparent reason. So, more than 14 years ago, White became one of the founding members of coach representation in the Association of Pennsylvania State College and University Faculties.
This year, White stepped down as coach executive leader, citing recent health issues and an even stronger desire to see a younger coach take the position. Despite the change, White is looking forward to remaining highly involved in his union to ensure that coaches will continue to be treated fairly. White said he encourages coaches who are not members of APSCUF to take advantage of this "unique opportunity," as APSCUF was the first union to organize non-faculty athletic coaches in a public higher education system. White recalled a time when he had to negotiate for himself, and he pointed out how important it is that coaches have someone who can negotiate for them.
White offered advice to the coaches' new executive leader, John Gump, also of Kutztown University.
"Look at what the union can do for the membership," White said.
Serving the whole unit is one the most valuable things a coach executive leader can do for his members, White added.
Like White, Gump has been a part of APSCUF since the coaches gained representation.
He was inspired to take on this new leadership position after seeing several individuals — including White — actively pursue the coaches' interests. APSCUF has played an important role in Gump's career, he said, and he emphasized how important it is for coaches to be united.
"We're coaches," Gump said. "We believe in teams."
Gump was coach president at Kutztown for the past two years, and he is looking forward to increased contact with his colleagues across the 14 campuses, he said.
Gump said he plans to reach out personally to nonmembers and new hires to make them aware of membership benefits and key issues that concern them.
"With votes looming on a variety of issues, it's important to have as many voices participating in that decision-making as possible," he said.
Following White will be a "daunting task," Gump said, since White was APSCUF's first coach executive leader.
However, he is also thankful for the opportunity to take on this new role and was quick to mention that he will seek advice from White as he proceeds, Gump said.
"I will do my very best, and I assure you there will be a well-worn path between my office door and his," he said.
—Corrinne Rebuck, APSCUF intern