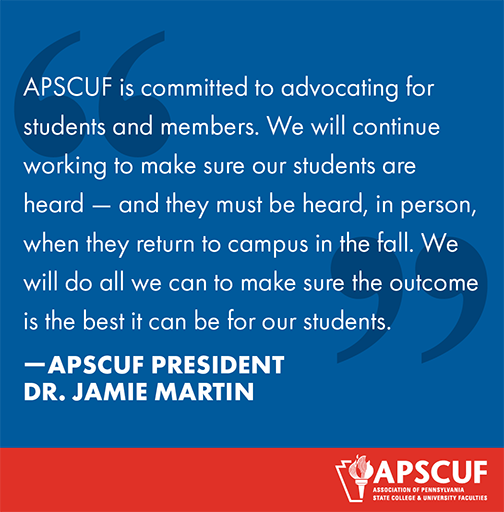 Pennsylvania's State System of Higher Education's Board of Governors today voted to move forward with consolidation plans for three universities in western Pennsylvania (California, Clarion and Edinboro Universities of Pennsylvania) and three in the north (Bloomsburg, Lock Haven and Mansfield Universities of Pennsylvania).
"APSCUF is committed to advocating for students and members. We will continue working to make sure our students are heard — and they must be heard, in person, when they return to campus in the fall," APSCUF President Dr. Jamie Martin said in APSCUF's statement following the vote. "We will do all we can to make sure the outcome is the best it can be for our students."
Click here to read APSCUF's complete statement.
Click here to read Martin's comments to the Board of Governors at the beginning of today's meeting, prior to the vote.