Grazing students, funding, CBA bashing, your healthcare, release time for APSCUF chapter presidents, diversity hiring, struggling universities, per-credit tuition, and more
APSCUF live-tweeted last week's State System budget-appropriations hearings before the House of Representatives and Senate. If you missed those tweets, you can catch up here.
If you have a bit more time, we've post both sessions on our YouTube channel for your convenience. Together, though, they're almost five hours, so here are segments we thought were of most interest to APSCUF members.
Today we'll start with the House session, which clocked in at almost three hours. Click on the images to watch clips.
Chancellor Frank T. Brogan set the stage with a recap of Pennsylvania State System of Higher Education's funding situation: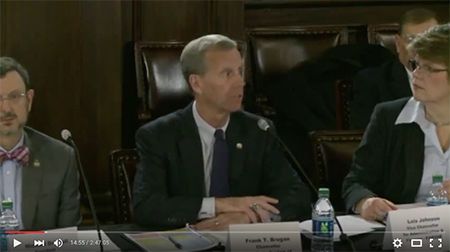 "We have about the same funding as we had in 1997 … but we do have 13,000 more students today," he said.
Brogan explained how the System has dealt with funding cuts and flat funding, and he mentioned upcoming changes: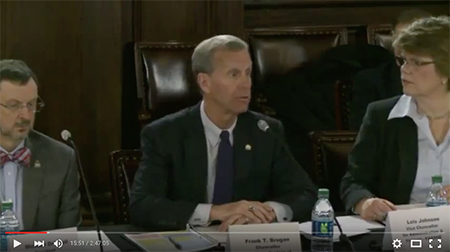 "We're 900 employees less today than we were eight years ago, through a variety of activities that have gotten us there," he said. "We are leaner and meaner in that regard. … We're more efficient in terms of our primary function, which is to graduate students with marketable degrees. We are working, however, today and into the months to come on what we're calling an operational and organizational modernization plan. What should our system, our 14 universities, our system, look like for the next 25 years?"
Rep. William Adolph, Republican chairman of House appropriations committee, asked Brogan how funding cuts have affected the State System.
Here's Brogan's response, in which he mentions tuition hikes and budget cuts: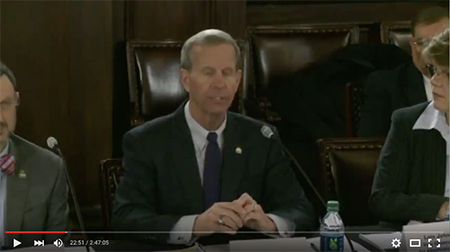 Indiana University's president, Michael Driscoll, seated next to Brogan, added that IUP has eliminated more than 40 positions: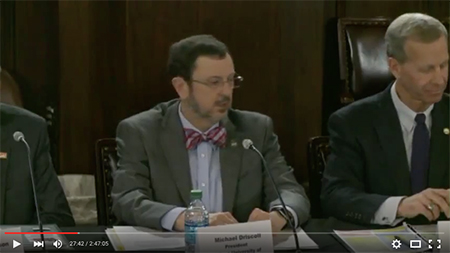 Rep. Sue Helm asked which of the universities have struggled the most with enrollment and may be the most financially vulnerable. Brogan's answer: Cheyney and Mansfield.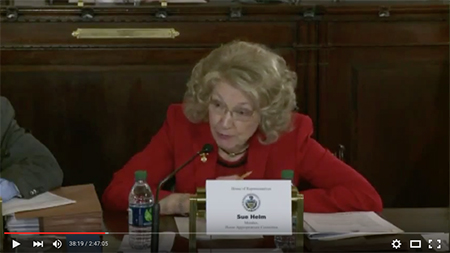 Rep. Stephen Kinsey inquired about Cheyney University — specifically its interim president: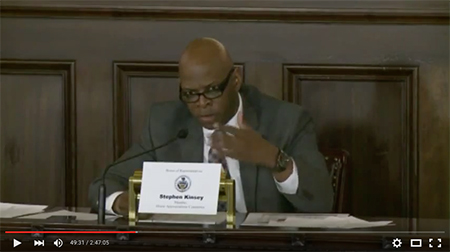 "We are still trying to get our arms around some of the major issues that Cheyney is dealing with," Brogan replied, "so that by the time we post that job for a permanent president, we'll be as attractive as possible to the most attractive candidates."
Rep. Warren Kampf asked what cost savings the State System has made and is planning on implementing. The answer: cutting more than $300 million and 900 employees in the last 10 years.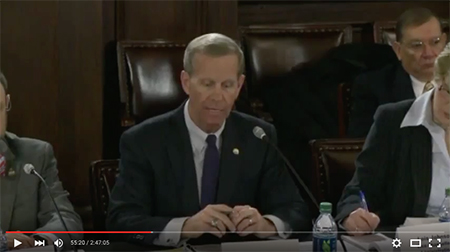 Brogan said the System is examining faculty release time and its costs to the universities. He singled out the contractual release time for APSCUF chapter presidents for his example: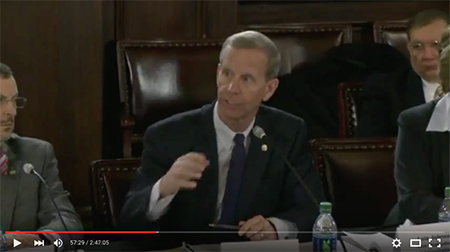 Rep. Madeleine Dean asked Drew Johnson, an East Stroudsburg University senior and Student Senate president, how the budget impasse has affected students: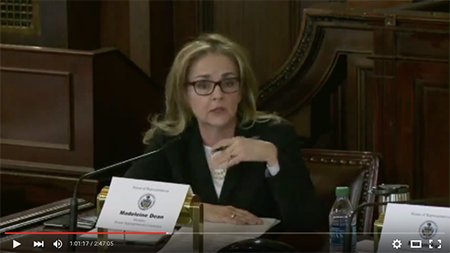 Students have had to reprioritize, Johnson said. In the case of off-campus students, that might be a matter of choosing between rent and books, he said.
"They've had to do a lot of nail-biting," Johnson said of fellow students waiting on state money.
Rep. Keith J. Greiner asked about per-credit pilot at Millersville University. He said he was impressed with the preliminary data and sees advantages to the program: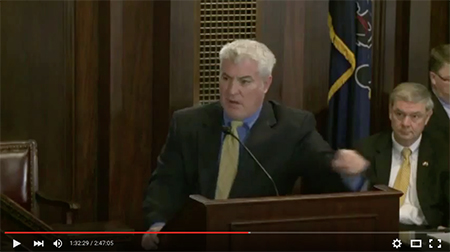 "Millersville is the first but not the last university to move to what is called a cost-per-credit system," Brogan replied. He said about half the universities in the country use such an approach.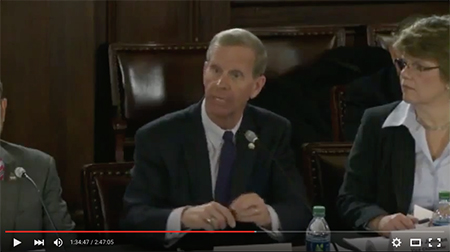 "It also has the net effect of having students take a more serious look at how many credits they are taking and the need to graduate on time, lest you face the additional cost of lingering at a university," Brogan said. He went on to compare students to livestock: "Some people don't like that idea. They believe that grazing in the vineyard of higher education for a prolonged period of time is the way to go."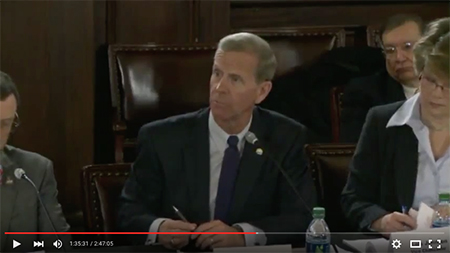 Brogan continued: "We do, to end, have a number of universities that have asked for the ability to do that and are preparing to implement that for the fall of this next year, in some cases."
Rep. Donna Bullock asked about student and employee diversity within the State System.
Driscoll mentioned the collective-bargaining agreement, specifically, in his response. Ignoring the obvious answer that freezing hiring stifles the ability to diversify, Driscoll chose instead to focus on the CBA: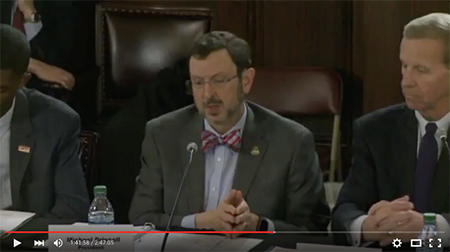 "We have a collective-bargaining agreement that provides very little flexibility in starting salaries for new faculty hires that doesn't allow us to address market considerations very well," he said, "and that makes us less likely to be able to bid effectively on some of those great candidates."
Brogan continued an assault on the CBA in the same vein: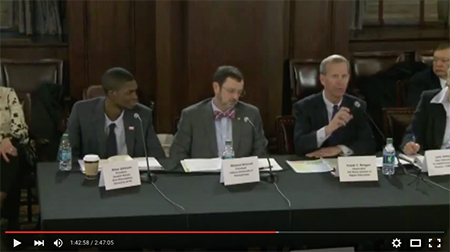 "I come from a system before this one where when you wanted to go out and hire a chemistry professor, you could go out and look for the best chemistry professor in the country and be able to decide how much you were able to pay that particular potential chemistry professor for their experience and their qualifications," he said. "We don't do that here. We can't do that here. We … are stuck to a schedule, and it does make it hard to vie competitively against all the others in state and across the country for some of the best of the best. It's a very difficult challenge to face when you're trying to get the highest quality faculty that you possibly can."
Rep. Kevin Schreiber asked the chancellor to discuss funding cuts: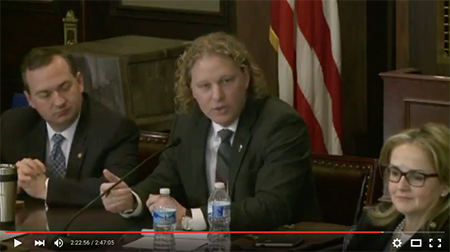 Brogan discussed tuition increases but also mentioned future changes to the System as a whole: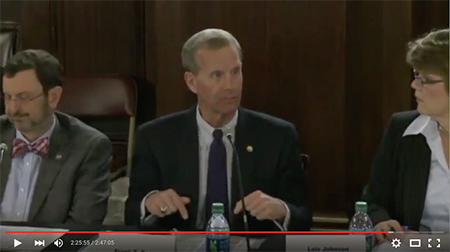 "We have turned to the only thing we've got, and that is ourselves," he said. " … We cannot and should not any longer just operate the way we've operated for the last 100 years."
He continued: "We have two obligations to reinvent, reorganize, and modernize our system."
Rep. Marguerite Quinn asked about the System's healthcare costs.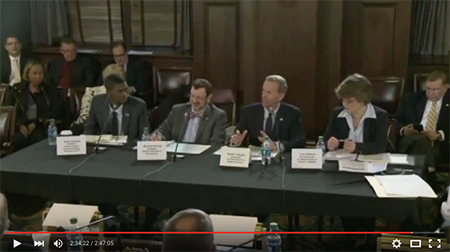 "Our board has taken a very emphatic position on costs associated with healthcare and recently made two decisions and have implemented those with those we can implement them with."
Those two decisions:
1. Ending annuitant healthcare for all new nonrepresented hires.
2. Changes to healthcare plan for nonrepresented employees as well as represented employees with me-too healthcare language in their contracts. (That's the plan the System proposed during negotiations in November.)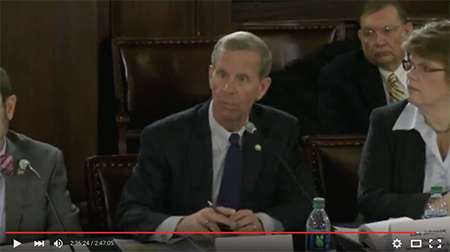 "We believe if that were instituted systemwide, with everybody, and it has to be through the collective-bargaining process in some cases, we could save as much as $12 million a year on those costs alone that could be plowed back into the system."
Rep. Seth Grove asked if any state funding goes to the health, safety, and well-being of students and faculty members: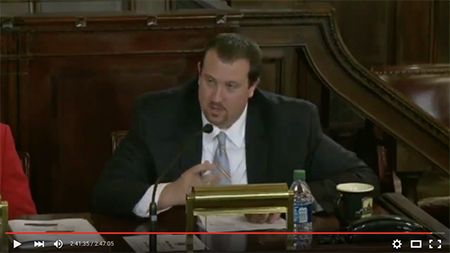 Brogan gave an "on-the-ground example."
"Recently, the general assembly passed a lot of good legislation on the protection of minors, and most people didn't think that had anything to do with higher education because, gosh, we're all adults," he said. He elaborated on the background checks taking place on State System campuses.
Next time: the Senate hearings.