As we prepare to ring in the new year, here's a look back at APSCUF's biggest news in 2016.
Winter (January-February)
APSCUF's executive council approved a statement reiterating the significance of higher education and Pennsylvania's State System of Higher Education's general educational goals and values.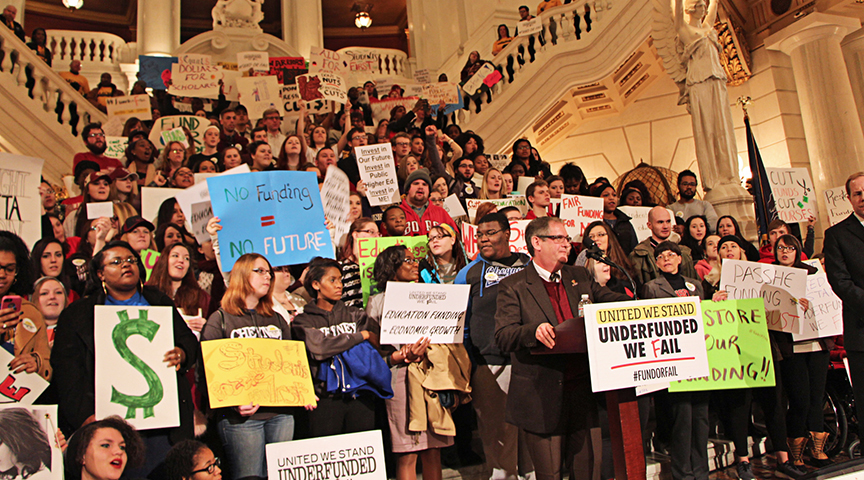 Students and faculty united Feb. 8 for the Underfunded We Fail rally (above). About 500 people filled the Capitol rotunda to advocate for fair funding of our 14 state-owned universities.
Spring (March-May)
The Pennsylvania Senate budget and House budget appropriations hearings included discussions of per-credit tuition and the rising cost of higher education.
Western-region members who wanted to learn more about our union and how to become involved participated in New Leadership Day April 1.
Contract negotiations were stagnant during the spring months, but delegates at APSCUF's April legislative assembly decided for the sake of students to postpone a possible strike-authorization vote. Also at that assembly, delegates elected statewide officers, including a new coach leader, and honored Betty Wesner for her service to the organization.
APSCUF released statements regarding per-credit tuition programs and the value of education.

Left photos: Marietta Dantonio-Madsen paints APSCUF's Gradusaurus. She took pictures throughout the process and plans to self-publish a book about the project. Second from right: Dantonio-Madsen visits the finished dinosaur on Front Street in Harrisburg. (Photos courtesy of Marietta Dantonio-Madsen) Far right: A closer look at Gradusaurus.
APSCUF sponsored a dinosaur in Harrisburg's Dino-Mite Summer art exhibit. Cheyney University art professor Marietta Dantonio-Madsen designed and painted the Tyrannosaurus Rex, which was on display outside the state office throughout the summer.
Summer (June-August)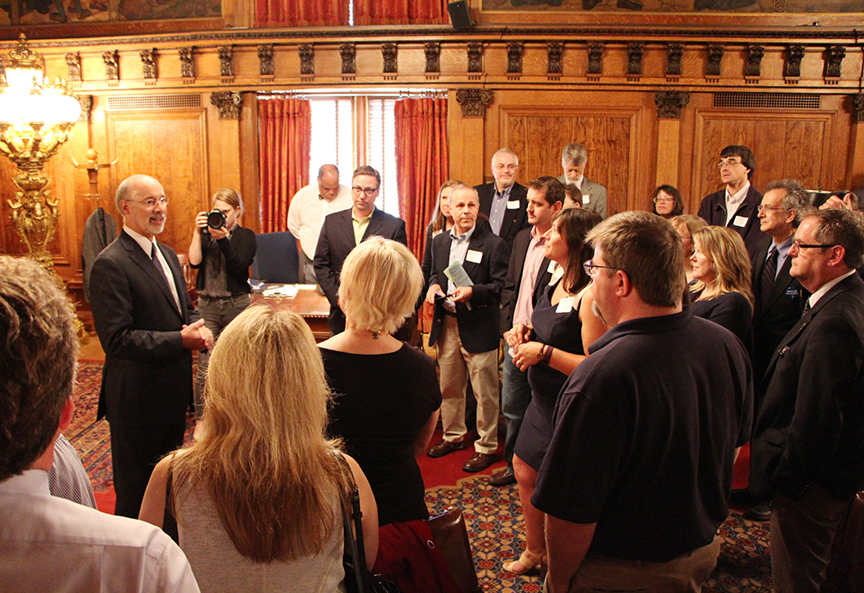 Gov. Tom Wolf talks with APSCUF members June 8 in the Capitol. Photo/Kathryn Morton
Gov. Tom Wolf visited with APSCUF members June 8 in the Capitol. Members also met with their legislators to advocate for public higher education.
The APSCUF Life series launched on the APSCUF blog to illustrate faculty and coach accomplishments and hard work — which continue even during the summer.
Two members spent time in the State APSCUF office for faculty summer internships.
After nine terms of service on the executive council, APSCUF's statewide secretary retired. A new secretary, elected in April, took on the position's responsibilities.
APSCUF's commercial aired statewide during the Olympics and during other programs in the capital area. APSCUF also sponsored National Public Radio during the summer.
Fall (September-December)
After members voted to authorize a strike, APSCUF on Sept. 23 announced a strike date of Oct. 19, if negotiators had not reached a fair contract by that deadline.
At September's legislative assembly, APSCUF honored Deirdre Kane for her service. Following the assembly, APSCUF's strike school trained members with leadership roles for a possible strike.
Faculty members rallied Oct. 6 outside the Dixon University Center in Harrisburg to demand a fair contract. Some also spoke during the Board of Governors meeting.
APSCUF teamed with Pennsylvania AFL-CIO for Burgers and Ballots events on State System campuses.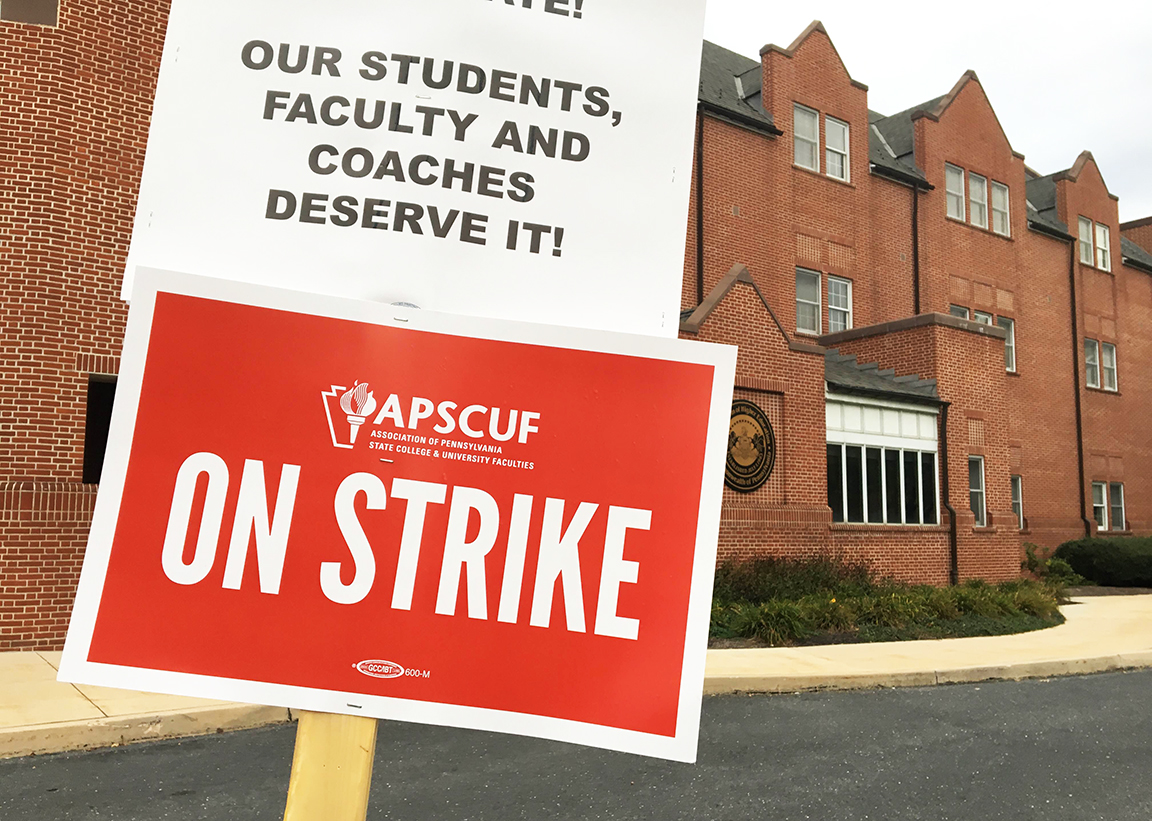 APSCUF had its first statewide faculty strike for three days beginning 5 a.m. Oct. 19. The strike ended with a tentative contract agreement on the afternoon of Oct. 21. Coaches reached their own tentative agreement the following week, with both bargaining units ratifying their deals in early December. The State System's Board of Governors signed off on the contracts Dec. 20.
APSCUF released a statement regarding the tumultuous election season and its results.
—Alexandria Mansfield,
APSCUF intern