This summer, APSCUF is going behind the scenes to show how faculty members and coaches continue to devote themselves to affordable, quality education even when class is not in session.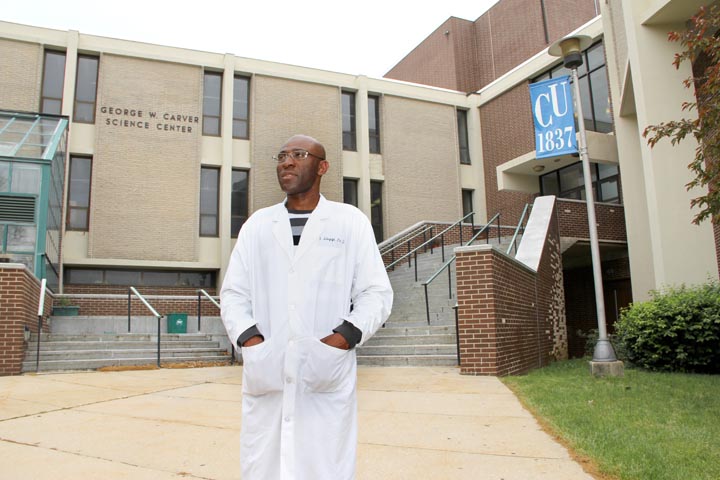 Dr. Adedoyin Adeyiga is a chemistry professor at Cheyney University. Photo courtesy of Dr. Adedoyin Adeyiga
As a professor at Cheyney University, Dr. Adedoyin Adeyiga is responsible for more than teaching his students about chemistry. He also manages the grants that help make that learning possible.
That means time outside classroom and office hours, adding up to 50- to 60-hour workweeks. Those hours include committee and service work, research, and professional development. His schedule is packed, but Adeyiga strives to remain accessible to students, he said.
Adeyiga does "whatever is needed to make sure the needs of the students are met as well as the agencies supporting/funding my grants," he said.
As a grant manager for the university, Adeyiga provides Cheyney with an average of $500,000 each year. The task comes with its own set of responsibilities: Adeyiga oversees his own data manager and administrative assistant.
Adeyiga also participates in three campus committees, which means additional meetings along with his department meetings and various meetings associated with grant managing. Juggling his multiple responsibilities can be daunting at times, he said, as he is often expected to be in several places at the same time. Sometimes, one of those places is the classroom or lab, and Adeyiga is devoted to making sure his students are his main priority, he said.
"Cheyney is a small school, and we do not have the luxury of graduate science students or a lab technician who could prepare labs for us, so we do the lab preps ourselves," he said.
A supporter of his personal academic development, Adeyiga strives to participate in as many professional-development opportunities as he can to increase his knowledge and bring new ideas back to his students. Grant management provides a number of such opportunities. He is able to attend conferences, take courses related to his area of study, do some grant-writing, and participate in peer reviewed discussions for federal organization, including the U.S. Department of Agriculture and the National Science Foundation.
Adeyiga also finds time to pursue his own research projects, one of which involves the study of sickle cell anemia. His research findings on that topic could provide a therapy method for those living with this disease.
These types of research projects are part of why Adeyiga pursued a career in chemistry in the first place, he said. Adeyiga knew from the onset of his high school career that teaching was for him. The passion to contribute to and find solutions to societal issues steered him toward chemistry in particular, he said.
Finding a balance between his personal and professional life proves challenging, he said.
"When you are as committed as I am, anything goes," Adeyiga said.
Witnessing his years of commitment come to fruition is an element Adeyiga finds most satisfying about his job, he said.
"With teaching, the reward is instant, because we get to watch them graduate, get a job or head to graduate or health-professional schools," Adeyiga said.
—Corrinne Rebuck, APSCUF intern