This summer, APSCUF went behind the scenes to show how faculty members and coaches continue to devote themselves to affordable, quality education even when class is not in session. This post is a continuation of that series.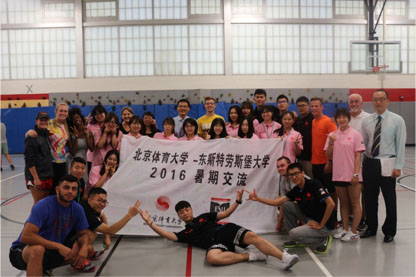 Chinese students learn about the English language, American culture, and sports at East Stroudsburg University's summer Sport and Physical Activity Symposium with Dr. Gene White, chairman of the physical education department, and Dr. Peng Zhang, exercise science professor. Photo courtesy of Aeon G. White
Faculty members at East Stroudsburg University have devoted much of their past two summers — and springs — to a program that promotes communication between Chinese and ESU college students and faculty.
"(The ESU Sport and Physical Activity Symposium) offers participants authentic American and college cultures, advanced knowledge of physical education and exercise science related areas, and great English instruction," said Peng Zhang, an ESU professor of exercise science and one of the masterminds behind the program.
Zhang said the driving inspiration behind the summer symposium, which began in 2015, was a combination of ESU's assistant provost, Mike Southwell, and school officials and students in China.
"Chinese students and faculty at Beijing Sport University and Shanghai University of Sport asked if there would be any short-term programs [or] opportunities that could allow them to visit ESU," Zhang said. "Mr. Southwell said we could have them come over here for a few weeks in the summer and provide them authentic experiences, studying and living in a U.S. university. Afterward, we came up with the summer symposium idea."
Before the program can even consider applicants, Zhang; Southwell; Dr. Gene White, chairman of physical education teacher education at ESU; and Sarah Goodrich, ESU's facility director, must coordinate the agenda's planning. The process consists of outlining and organizing academic lectures, spoken English lessons, American sports and physical activities, sightseeing trips, meals and lodging, and other miscellaneous activities for the symposium's 28 days.
"We do a lot of work for each summer's symposium," Zhang said. "I cannot count how many hours we have put into the task."
Once the program description is finalized, organizers send it to the partnered schools, which can start recruiting.
The organizational team meets regularly from February to April. Between April and May, organizers reserve classrooms, invite faculty members to participate, prepare invitational letters for visa applications, hire student workers, and complete background checks. In the interim, the Chinese schools confirm numbers and pay for their students.
Zhang said faculty members work "many, many hours" during the symposium itself, as well.
"We supervise all the activities — on and off campus — such as American sport lessons, lectures, hiking, kayaking, and field trips to NYC, D.C., and Philly," he said.
As for compensation, Zhang said he and White were the only ones paid for participation because they needed to be "full-time with the participants during the 4-week period."
"Other faculty participants are not paid for participating, but count it as a service activity," Zhang said.
Once the program runs its course, the work doesn't immediately stop. The task then becomes preparing thank-you letters for all the faculty members who taught and contacting the Chinese administrators to report the results of their students' learning and participation.
"Overall, I have received very positive feedback from Chinese and ESU students," Zhang said. "Some Chinese students told me they hoped that the symposium would never end."
One of those Chinese participants was Aeon G. White, of no relation to Dr. Gene White.
"Teachers always encourage[d] us to ask questions, to doubt, to say 'I don't agree,'" Aeon said. "Dr. White told us not to believe that teachers are always right or they know everything."
Aeon said White's words motivated her to overcome her timidity in class.
"For me, the saddest time was to say goodbye to Dr. White," she said. "I told him that he always made me feel at home, and every time I talked to him was just like talking to my dear Pa Pa."
Zhang said the program benefits Chinese and ESU students alike.
"They really learned and enjoyed their experiences," Zhang said. "Along with providing our Chinese visitors a sustained American experience during the summer, this program brings together people from many different groups, to work and study harmoniously with one another."
Zhang was this program's primary conductor, with the help of White, who acted as a leading faculty member of the symposium. Southwell oversaw the entire symposium; Goodrich arranged the meals, lodging, and all the classroom and gym reservations; and Dr. Cynthia Leenerts, an English professor who lectured English comp, organized English corner events and supervised several sightseeing events.
Other lecturing faculty this year included Tim Connolly, chairman of the philosophy and religious studies department; Ed Arner, sport-management instructor; Chad Witmer, an exercise-science professor; Gerard Rozea, chairman of athletic-training department; Kelly Harrison, an athletic-training professor; Mary Jane O'Merle, health-studies instructor; and Doug Lare, chairman of the professional and secondary education department.
"Our student visitors have remarked, and the rest of us have noticed as well, that we became da jia — a big family," Zhang said. "We believe that this spirit of cooperation reminds us of the way life ought to be — both between nations and within our university."
—Alexandria Mansfield, APSCUF intern