This summer, APSCUF is going behind the scenes to show how faculty members and coaches continue to devote themselves to affordable, quality education even when class is not in session.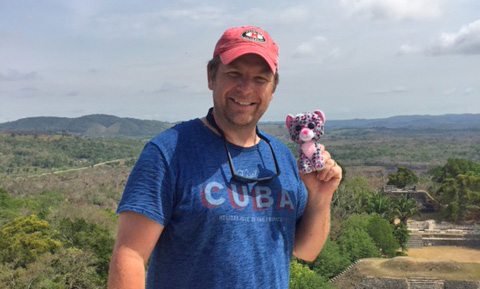 Dr. Jonathan Rothermel promised his daughter he would bring this stuffed animal on a study-abroad trip to Belize. He displays Kitty at the Mayan site of Xunantunich.
Dr. Jonathan Rothermel often grades while his daughter is in dance class. Or the dad of two, a political-science professor at Mansfield University, rises early to prepare for the day while the rest of his family sleeps.
Despite the extra hours Rothermel must put in to keep up with his various work responsibilities, he said he is thankful for a position that allows him a degree of flexibility in balancing his personal and professional lives.
"I am blessed with a great job that does not necessarily require me to be in a particular place for 40-plus hours a week," he said.
Rothermel's profession entails much more than a simple 40-hour workweek, with a large amount of his personal time being spent preparing, catching up, and grading.
Upon his arrival at Mansfield University in 2008, Rothermel was surprised at how much time he spent working outside the classroom — on both his primary duties and additional responsibilities. For the past two years, Rothermel has served as vice president for the university senate while juggling an average of four classes per semester. Recently, he was promoted to president of the university senate. He has also been an active member of multiple campus organizations and committees that require additional meeting times and responsibilities. Every week, Rothermel must attend four to five meetings that cover a broad range of administrative tasks outside the realm of his traditional classroom responsibilities.
And then there's "always" grading to do, Rothermel said.
While decreasing the amount of coursework he assigns would cut the time Rothermel spends grading, he believes multiple assignments give students "as many opportunities as they can to succeed." And Rothermel enjoys seeing his students succeed in his class, he said.
Advising students — both formally and informally — is another time-consuming responsibility for Rothermel. Informal advising, Rothermel explained, takes much more time but is also one of the most enjoyable parts of his job. Despite juggling his daily tasks, Rothermel does not put a time limit on his students.
"You cannot predict when you will be needed to put out fires or offer an empathetic ear," he said.
One aspect Rothermel most enjoys about his job is the frequent contact with his students, he said.
"My students embody the fruits of my labor, and as I tell my students often, I get to live vicariously through them," he said.
One of the most common phrases in Rothermel's household is, "Daddy is in his den doing work." Although his profession can prove challenging with the numerous responsibilities and the extra dedication associated with his tasks, Rothermel said he finds the rewards especially enjoyable.
"My job as a university professor is what defines me, and my family respects this and has been gracious about sharing me with my students," he said.
—Corrinne Rebuck, APSCUF intern