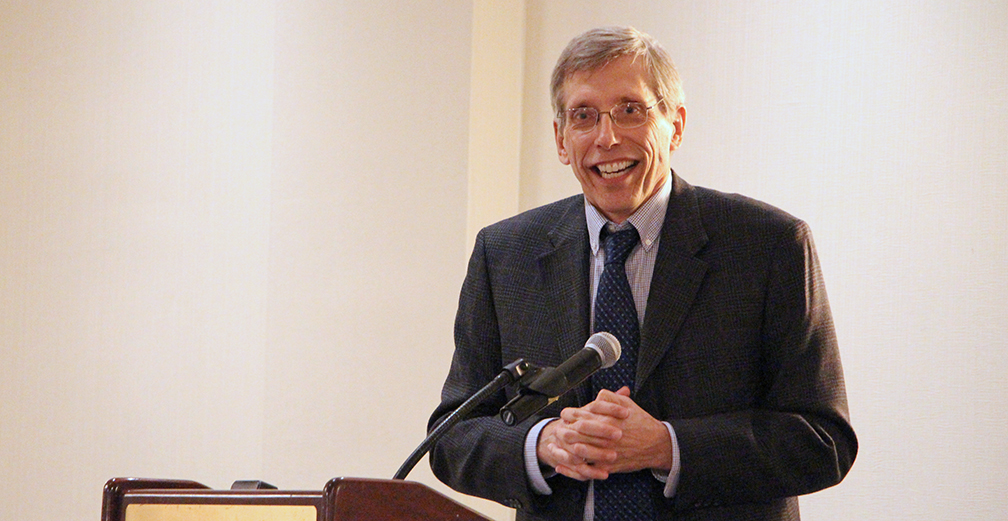 In September, APSCUF honored Bloomsburg University Chapter President Dr. Steve Kokoska with its Distinguished Service Award. APSCUF file photo
Steve Kokoska is retiring as Bloomsburg's longest-serving APSCUF chapter president, holding the position since 2003. A professor of mathematics, Kokoska came to Bloomsburg from Colgate University in New York, which did not have union representation at the time.
"Within the first few years at Bloomsburg, I realized the value of a union," he said. "In addition to protecting salaries and benefits, there was always someone representing your best interests, and that's why I became involved. And I wanted to see my colleagues be well represented and have a voice in campus decisions."
Kokoska began his work with the Bloomsburg chapter on the grievance committee, working closely with staff to understand needed improvements in working conditions, filing grievances on behalf of Bloomsburg faculty, and helping to protect salaries, benefits and academic freedom for professors. In this position, Kokoska said he was able to "ask management difficult, analytical questions, ensure management followed the CBA, and advocate for faculty rights and benefits."
As chapter president, Kokoska also served on the local planning and budget committee, the budget subcommittee, space and facilities, the president's advisory committee, and as an adviser to the BU Foundation board and the BU council of trustees. He stressed his belief in shared governance and faculty involvement in decisions that affect the entire academic community.
Bloomsburg's new chapter president is Eric Hawrelak, who worked with Kokoska as vice president and has also served on several university and APSCUF committees. Hawrelak's first semester as president will be the first one since the lockdown in March.
"It is a little intimidating to follow someone that was CP for as long as Steve was CP," Hawrelak said. "I am also excited. I learned from Steve to be patient and listen. I also learned that you have to have a thick skin to be CP. Finally, I learned to never make a decision in a bubble."
Kokoska recognizes the challenges ahead. He also said he worries about a loss of community in the universities, and he wants students and faculty to "support each other at university activities outside of the classroom."
But he remains very confident in his chapter.
"I think they will do a wonderful job," he said. "Recovering from the virus is a challenge. I think the nature of higher education is going to radically change. But I have a lot of confidence in the APSCUF team to respond and adapt."
Kokoska said he enjoys academia, the lifestyle, the students and the chance to learn something new every day.
"I love to teach," he said. "I love being in the classroom. And I love talking about mathematics and the challenge of making difficult concepts accessible and understandable."
Kokoska said he is eager to continue working on academic projects. The third edition of Kokoska's "Introductory Statistics" was released this year, and he plans to begin work on a second edition of "Calculus for AP." Kokoska said he also plans to play more pickleball in his retirement. He would like for those in higher education to remember the importance of community, he said.
"Never make a decision in isolation," he said. "It's important to work together, communicate, reach a reasonable compromise and grow and change together."
—Kyle Bower,
APSCUF intern