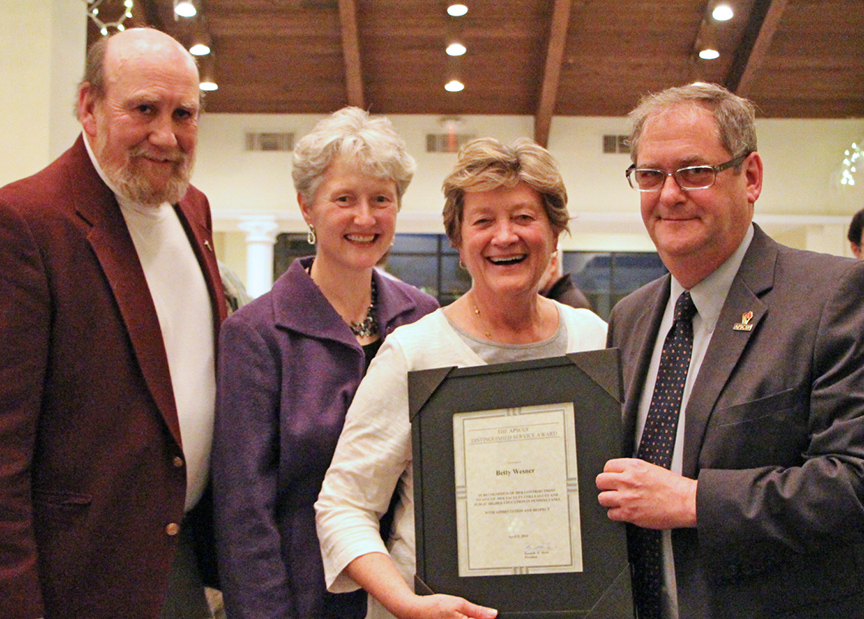 From left are former APSCUF President William Fulmer, Clarion University; former Mansfield University field hockey coach Diane Monkiewicz, who introduced Distinguished Service Award winner Betty Wesner; Wesner; and APSCUF President Dr. Kenneth M. Mash. Photo/Kathryn Morton
Betty Wesner won APSCUF's Distinguished Service Award — which is given to members who voluntarily contribute their time and skills to the functions of APSCUF at the statewide level — at the organization's legislative assembly in State College last week.
Wesner is retired from Kutztown University, where she was field hockey coach. Click here to read more about her.
For some, this was a final legislative assembly in their current leadership positions. State President Dr. Kenneth M. Mash expressed his appreciation for the service of: Steve Hicks, immediate past state president, of Lock Haven; Helen Bieber, secretary, retiring from Kutztown; Beth MacDaniel, chapter president, retiring from Clarion; Jean Jones, chapter president, retiring from Edinboro; Brendan Finucane, Shippensburg chapter president, who did not run for reelection; Mark Staszkiewicz, chapter president, retiring from Indiana; Keith White of Kutztown, stepping down from his position as coach executive leader; and Paul Quinn, outgoing Kutztown chapter president.