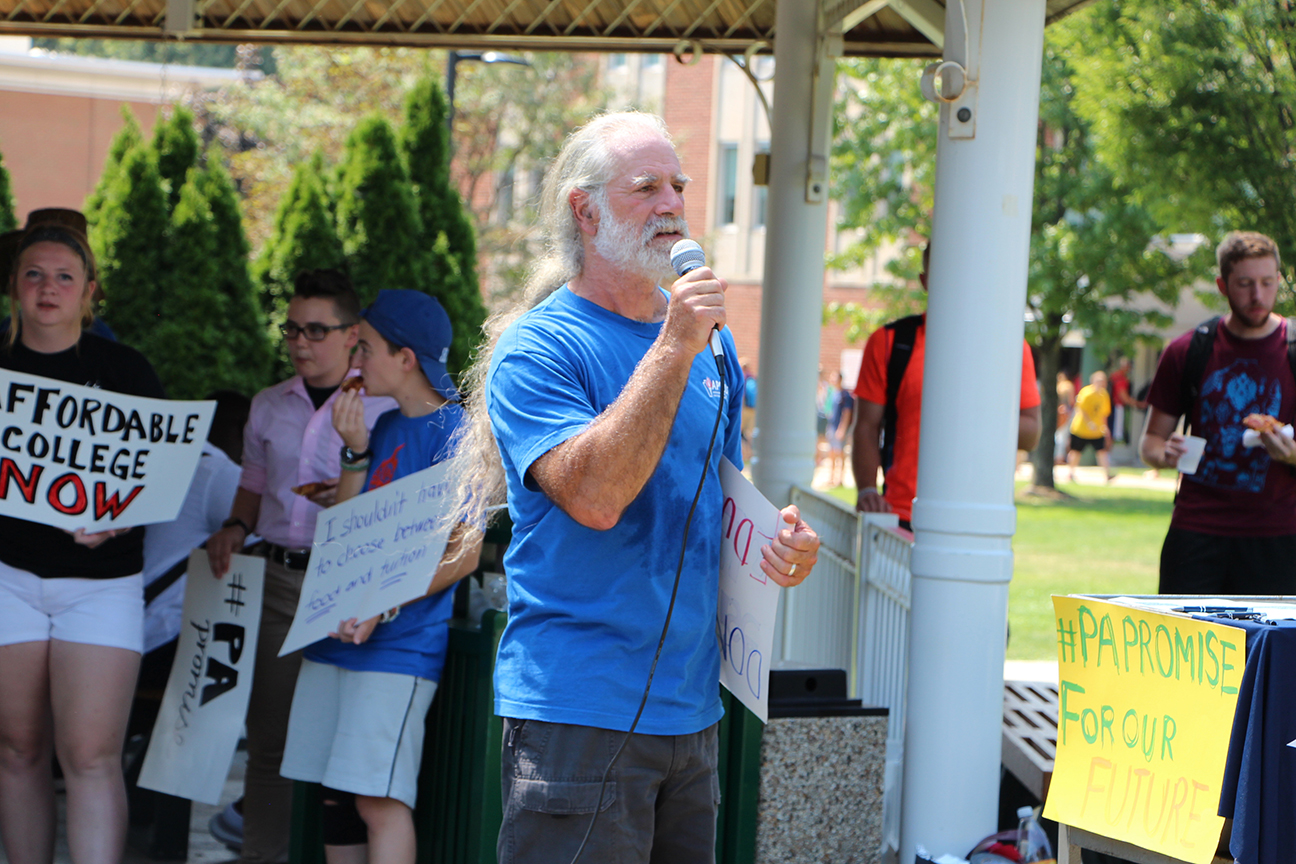 Ben Shaevitz encourages students to support the Pennsylvania Promise at a 2018 rally at Slippery Rock University. Shaevitz is APSCUF's newest officer-at-large on executive council. File photo
When a seat opened on the State APSCUF executive council, Ben Shaevitz saw it as the perfect opportunity to further give back to his union. As a new officer-at-large, the Slippery Rock University professor is bringing with him three decades of State System service and a track record of commitment to his union.
Shaevitz has been involved with APSCUF in a variety of capacities, including as a delegate to legislative assembly and on SRU APSCUF's executive council. He took a step back while chairing his department, but in 2015, in what Shaevitz called "a confluence of events," he was named the SRU chapter president and tasked with preparing his fellow faculty members for the next year's strike.
"(Getting the staff ready for the strike) cemented in my mind the importance of APSCUF," Shaevitz said.
Comparing union work to public service, Shaevitz said this work is rewarding and gives him the chance to interact with others and meet professors from different universities.
"(The executive council) must process information, collaborate effectively, and do their homework quickly — all in real time," he said, calling EC's work important and expressing his excitement to be part of it.
While Shaevitz said this new role is harder to prepare for than one of his lectures, he said he is excited to be working with real people committed to the union.
"APSCUF has history, tradition, and commitment," Shaevitz said.
Shaevitz' leadership experiences helped ground him in his work and led him on a path toward greater union involvement, he said. He has been with the Slippery Rock physics department for 30 years, serving as the department chair for 14 years. He earned his B.S. from Purdue University and Ph.D. from the Pennsylvania State University.
Shaevitz encouraged any faculty member with an issue to reach out to him.
"(The executive council is) a representative body," he said. "We represent our faculty members."
—Abbey Ford, APSCUF intern