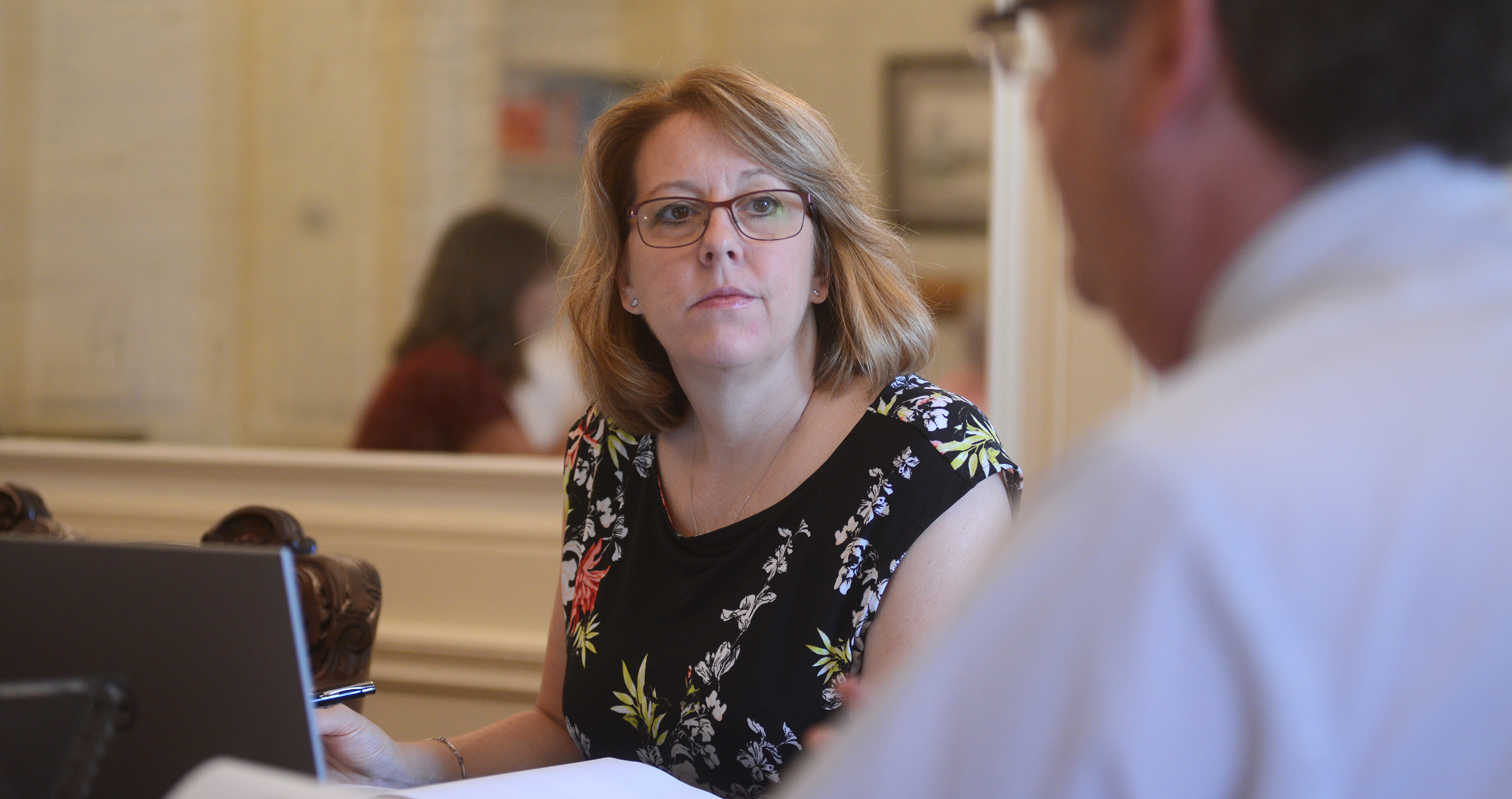 Indiana University of Pennsylvania Professor Michele Papakie, at an executive council meeting in July, is new secretary of State APSCUF.
As an alumna of Indiana and California Universities of Pennsylvania, a professor at IUP, and a parent of a State System student, getting more involved in union service came naturally for Michele Papakie, she said.
"It did not take me long to see the importance of a union in state-sponsored higher education," Papakie said.
The new secretary of State APSCUF said she is keen on working with the other members of executive council and partaking in the new opportunities that await her.
"We are blessed to have amazingly talented and intelligent people on our executive council," Papakie said. "During my term, I am hoping to learn everything I can from them and share my perspectives as well."
Papakie said she is especially eager to share her viewpoints as both a product and contributor to the State System. After working in public relations and journalism for two decades, she said she also believes her years of communication experience and personal insight into higher education provide the executive council with a unique perspective.
"I am confident that when conversations and concerns arise around these constituencies, I can provide a reasonable person's insight to ensure empathy and representation of ideas and potential impact when contemplating decisions," Papakie said.
Papakie said she is looking forward to gaining greater insight into the issues APSCUF faces.
"By serving on the executive council, I will become more aware and more articulate about the issues that threaten the quality education we provide at our State System schools, and I will be able to communicate them more confidently and widely," she said.
A professor of journalism and public relations at Indiana University for the past decade, Papakie said she knows the importance of fighting for the causes and concerns professors and coaches face across the State System.
"I am living proof that the high-quality education our universities provide is the fruit of the intense labor and compassion our faculty and coaches provide daily," she said. "I want to devote my energy now to seeing that my fellow dedicated professionals and I get the respect and voices we have earned and deserve in the process."
Serving as a lieutenant colonel in the Pennsylvania Air National Guard, Papakie said she is no stranger to service. Hoping to become a colonel before she retires, Papakie enrolled in Air War College to work toward this promotion.
Dedicating her time and energy across an array of service leadership positions has allowed Papakie to serve on a multitude of levels from local to military leadership — and now to union leadership.
"I ran for secretary of APSCUF to learn about our union and its workings from a broader vantage point," she said.
Kara Laskowski, another member of the executive council, said she believes Papakie will make an excellent addition to their membership.
"My impression of Michele is she is both highly organized and highly committed to the principles APSCUF embodies," Laskowski said. "Her experiences in both the military and higher education will make her a highly valuable member of the executive council."
Even with her hectic agenda, Papakie said she ensures her priorities are straight.
"Despite my insanely busy schedule that ultimately revolves around some type of service in one way or another, my family and my friends always come first," she said.
—Corrinne Rebuck, APSCUF intern
___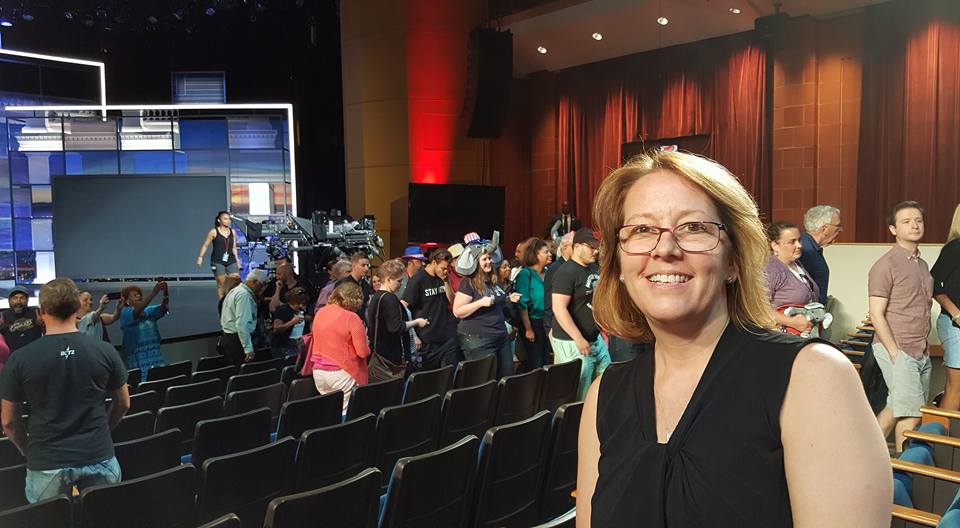 While in Cleveland for the Republican National Convention, Michele Papakie volunteered to be an usher for "The Daily Show" and was put in the studio audience. Photo courtesy of Michele Papakie.
In case you missed it: Papakie at the RNC
Michele Papakie was a faculty leader for the Republican National Convention July 18–21. She oversaw 15 students during their time in Cleveland. As an "avid and critical consumer of news," as Papakie describes herself in one column, she outlined her point of view on the conventions' events in her a series of columns for the Indiana Gazette. Each day, she summarized her experiences and her take on what transpired.