by Jonathan Persinger, Communications Specialist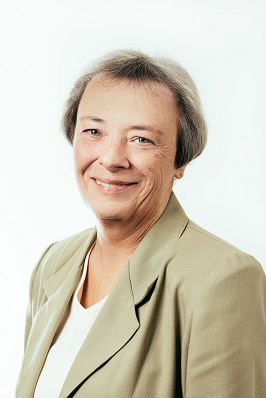 Professor Helen Bieber, Secretary of the Executive Council and Chairperson of Kutztown University's Electronic Media Department, has experienced a number of turns in her career of more than 35 years. She's worked teaching 8th and 9th grade math, producing local programming, for the Miami Herald, and teaching video production/communication law at the college level. In 2013, she even brought home a Crystal Pillar award to Kutztown.
Not only is she secretary on the Executive Council — which works to make sure the policies and instructions of the Legislative Assembly are carried out — but she is the longest-serving member of the EC in its history.
As Secretary of the Executive Council, Bieber's duties include maintaining a record of EC meetings and assemblies, along with roll call and ensuring proper and accurate counting during votes and elections. With the help of APSCUF's Lisa Demko, she ensures accurate minutes and documents are kept.
Bieber first became associated with APSCUF when Jim Tinsman, former State President and KU faculty member, encouraged younger members of the faculty to become involved at the state level.
"He called me personally and first got me involved with an ad hoc committee," Bieber said. "Which led me to becoming an alternate delegate, then a delegate, after which I made a decision to run for office. The rest, as they say…is history."
Bieber hasn't spent her entire career in education. After receiving her bachelor's degree in Secondary Mathematics from Clarion University, she taught 8th and 9th grade math. While pursing graduate education, her previous experience as a student worker in Clarion's College of Communications led her to pursue an assistantship and a master's in communication from her alma mater.
But even when working in cable production and at the Miami Herald, Bieber couldn't shake the desire to teach. She became involved with a Junior Achievement program in order to teach young people about video production.
"I ended up leaving my job, going to the University of Miami for a semester teaching Video Production courses, decided to stay in higher education, and never looked back," Bieber said. "I knew I had to teach."
These practical experiences have led Bieber to take a hands-on approach in regard to teaching.
"For students to understand the intricacies, the aesthetics, the process…they have to do it themselves, get their hands-on practice, critique themselves and each other and improve," Bieber said. "Being able to say that I've been there and done that lends some credibility to what I'm teaching."
In addition to her classes and EC duties, Bieber is heavily involved with student media productions at KU. In 2013, she and her students were awarded a Crystal Pillar award by the Mid-Atlantic Chapter of the National Academy of Television Arts and Sciences. Her students swept the nominations
"I have been assured that the members judge our students on the same criteria as is used for judging entries of professionals," Bieber said. "We're not cut any slack because they were student productions. So that was a tremendous boost and a validation of our work and our students' talent."
Having put in more than 30 years at KU, Bieber hopes to make sure that when she leaves her department, it is left in good hands and with a solid footing. In the meantime, she offers some advice for students pursuing a career in video production.
"More and more companies are looking for means to get their messages out. Don't feel the only doors open are the traditional ones," Bieber said. "Students need to pursue what they're interested in. The opportunities may not knock a second time."
Helen Bieber currently teaches at Kutztown University. You can find more information on her courses & her work at the KU Department of Electronic Media website.