by Jonathan Persinger, Communications Specialist
Last Thursday, the PA AFL-CIO's "Burgers and Ballots" tour continued with a stop at Kutztown University. The tour RV offered their Get Out the Vote campaign's usual features, including a cookout with free burgers & hot dogs, voter literature and information, absentee ballots, and speeches by APSCUF President Dr. Kenneth M. Mash and APSCUF Kutztown University Chapter President Paul Quinn.
But what helped to make this one of the tour's most successful stops yet was the politically-passionate, endless energy provided by KU Student Body President, Joe Scoboria, and his speeches throughout the afternoon.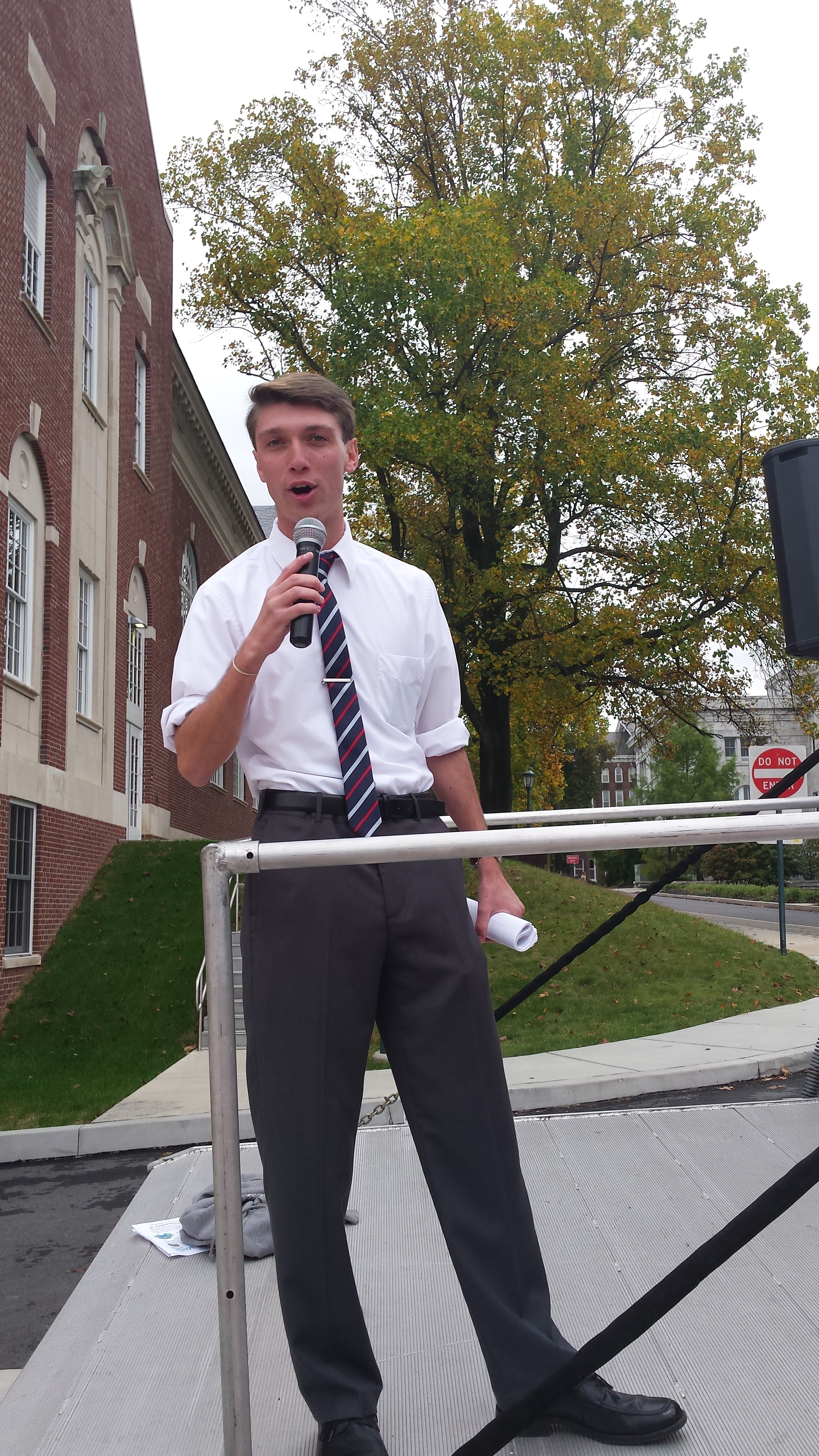 A junior at KU dual majoring in Special/Elementary Education with a minor in History, Scoboria was instilled with an interest in politics from a young age. He cites his Godfather, the late State Senator, Michael O'Pake, as a strong influence. His father, who worked for O'Pake, served as Senate President at Penn State, and both of his parents have been long-time union members. He plans to continue this trend and join a union after graduation.
Scoboria is particularly passionate about the importance of creating an active voice in student government. "It offers the opportunity to engage in not only civics and the process of government, but serving the students you go to school with," Scoboria said. "We have a strong voice which lies between the students and administration."
The Student Body President was a huge presence at Burgers and Ballots, giving two speeches, speaking to students one-on-one, and using the microphone and his magnetic personality to draw in every student he could.
His speeches centered on the importance of students taking an interest in politics, keeping themselves informed, and using their vote to influence the upcoming election.
"Students need to come together and realize that their voices are heard in every election they participate in," Scoboria said on the subject of the dreaded "student voter apathy." "When students are put on the back burner and made to feel as though they are small or do not play a significant role, they move in another direction. We need to encourage students to vote on the very issues they are being dealt with."
Scoboria had nothing but good things to say about the PA AFL-CIO's event. "It was right in the middle of campus, where APSCUF members and I could talk to and be personal with many interested students. I had a fantastic time being a part of this event," he said. "Every single APSCUF member was respectful, happy, and willing to speak to all students. I wish I could travel around PA with them!"
While Scoboria unfortunately cannot tag along, the Burgers and Ballots tour continues through this week, making its final stops: Clarion University, Slippery Rock University, Edinboro University, California University of PA, and Indiana University of PA. You can stay up-to-date by following @APSCUF on Twitter, or by following the #BurgersAndBallots hashtag.
For now, he leaves fellow students with a few more words on the importance of making it to the polls:
"Voting is the foundation for any form of political action which you have the constitutional right to take part in."
Joe Scoboria plans to graduate in 2016 and acquire a teaching position between Reading and suburban Philadelphia. He is also interested in the politics of urban public education funding, working for the Department of Education, and possibly running for office.