Today's blog post comes from our current APSCUF intern, Tim Mack, a political science and journalism major at Lock Haven University.
A thunderstorm couldn't stop a few hundred PASSHE students from marching up to the Capitol and voicing their opposition of Governor Corbett's proposed budget, which cuts funding for the State System of Higher Education by 20 percent. The student demonstrators arrived with witty and creative signs to match their disgruntled attitudes. They listened as fellow students, professors, and legislators gave rousing speeches against the cuts. Each spoke to the dangers of the 20 percent cut on the state system and how they planned to place continued pressure on members of the general assembly to restore funding for Pennsylvania's state-owned universities.
Here is the press release issued by State APSCUF:
"STUDENTS AND FACULTY RALLY TO BRING STATE FUNDING FOR PUBLIC HIGHER EDUCATION BACK TO THE FUTURE
HARRISBURG – Busloads of students from Pennsylvania's 14 state-owned universities stood together on the Capitol steps Wednesday to protest possible budget cuts to the State System. Students are concerned that Governor Corbett's proposed 20 percent decrease to the system will cause tuition increases, larger class sizes, and more program cuts. APSCUF, the association representing the 6,000 faculty
members and coaches at the 14 PASSHE institutions organized the event, which will be streamed live on www.pastudentsvoice.org.
"I'm extraordinarily proud of our students for making their voices heard. For the second year in a row, students are uniting in Harrisburg to fight for accessible, affordable, high-quality public education," said Steve Hicks, president of APSCUF. "We are standing together for the future of the Commonwealth. It's time for policymakers to bring us back to the future."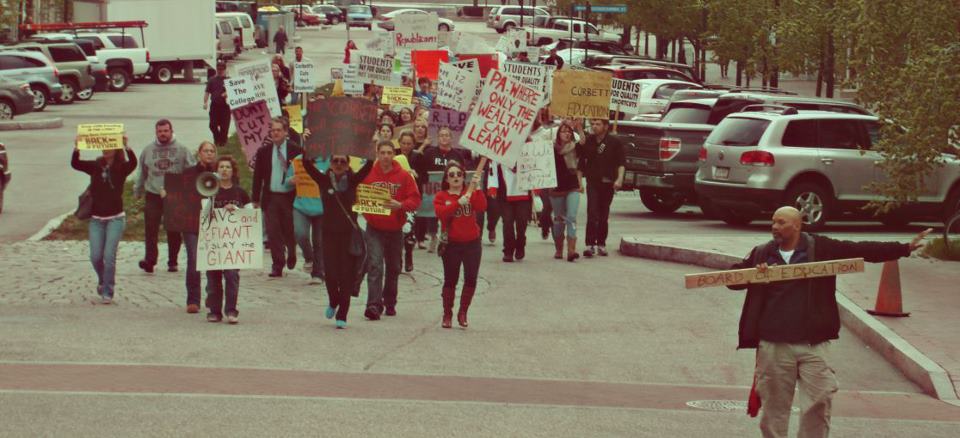 The allusion to the 1980s movie was echoed on rally buttons and postcards that students are sending to legislators. The governor's proposal would put funding for the State System below 1989 levels. That year, the state appropriation constituted 55 percent of PASSHE's total Educational and General budget. If the governor's budget cuts are approved by the legislature, state funding will account for just 21 percent of PASSHE's total budget.
"Students are very worried about how these cuts might damage our universities," noted Rachel Gustafson, a student at Edinboro University, and rally emcee. "We are afraid that when we return next fall there will be empty seats where our friends used to be."
The rally started with a student-led march on State Street to the Capitol steps. The event is similar to those staged at universities across the state.
James Vesey, a student activist at Lock Haven University said, "We are outraged that the governor proposed these cuts. Last year we took an 18 percent hit, and it resulted in a 7.5 percent tuition increase. We cannot afford the same fate."
"Our students are working hard to fight the loss of state funds for PASSHE. Some got on buses at 5:00 a.m. to be here with us today. We want our students to know that we stand united with them in opposition to Corbett's cuts, which will affect the lives of working and middle class Pennsylvania families," Hicks added. "We will continue to advocate for investment in quality public higher education, and investment in the future of the Commonwealth."
The rally ended with a song directed towards the governor, led by a West Chester University student. He performed the tune through a megaphone, as the thunderstorm forced the electrical equipment to be put away, and sung fittingly "please, please, please Mr. Corbett, I want to study in P-A."
Students who attended the rally are sharing their photos and videos on facebook. Find out what they're saying at www.facebook.com/pastudentsvoice.