By Dr. Cheryl Wanko
APSCUF members are university faculty, but they are also members of local communities – and parents. Those other roles should remind us of the fight for public education we share with the teachers and staff in our local school districts.
Distressed school districts are hardly news in Corbett-led Pennsylvania – Chester Upland, Harrisburg, York come to mind, and others join the list daily. One district particularly hard hit this year is Upper Darby, located in older Philadelphia suburbs. Last year, budget cuts resulted in lost positions in physical education and family/consumer sciences. But this year, the cuts go straight to the heart of Upper Darby's identity. A modest 12,000-student district, its prized programs have always been its arts, especially music. UD has not had the resources of its wealthier neighbors, and its tax base is constrained by its already-dense housing and lack of space for other tax revenue opportunities, such as malls and industry. And yet it has built an arts program that wins awards, performs in both professional venues and local parades, and gives hope to its struggling community.
Yet when the district finds itself in a $13.1 million dollar budget hole, the positions on the chopping block are not only all elementary PE and art and librarians, but exactly those that have been its greatest source of pride, its music program. Its music staff will be reduced by almost half, cutting all classroom and almost all instrumental instruction from its elementary schools. All of the cut subjects are to be moved into the general classrooms, with non-specialists somehow now responsible for teaching these subjects on top of their already heavy loads. (I can't not mention the cutting of all languages except Spanish as well as the trained technology teachers from the middle schools.)
The main sources of the budget shortfall have the same source as PASSHE's: declining state support. Specifically, a mandate to provide student costs a
nd pension funding for charter schools, which had been reimbursed partially by the state but which now are not; a pension fund that has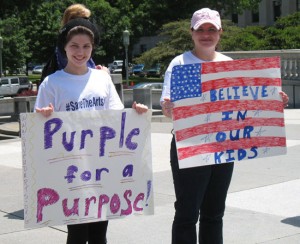 been underfunded by both the state and the school district over the past decade; an old $50-million bill owed the district by the state that was never paid; an unfair state funding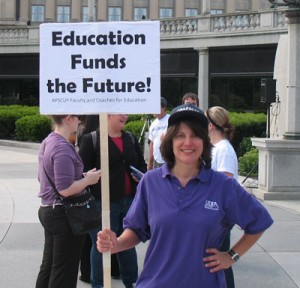 formula for special education; a No Child Left Behind penalty on a school district that has made Adequate Yearly Progress for 94% of its students; and a tax base that simply can't pay any more.
Concerned UD parents, supporters, and legislators took their cause to Harrisburg and protested on Wednesday, June 6th at the entrance to the Capitol building. As at APSCUF rallies, speaker after speaker spoke to the importance of public education funding, of the devotion of their teachers, and of the special ways in which the arts made their school experience richer – and, for some, provided the lifeline that kept them in school.
You don't need me to tell you the devastating effects of eliminating the arts in public schools. What APSCUF members must be concerned about as well is that the state's attempts to squeeze public schools at the local level – thus generating ill will within communities and towards school employees – is our problem, too. The profit-based, cynical push towards privatization and the abandonment of the common good of high-quality, affordable education is employing classic divide and conquer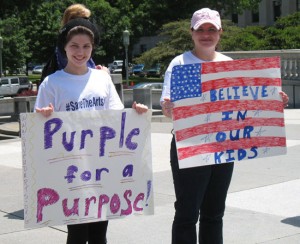 tactics.
We cannot allow division to happen. We must join with our K-12 teachers and parent groups as companions in our fight for education in the state of Pennsylvania. We must all take part in efforts like the CLEAR Coalition, especially as it fights privatizing legislation like HB1307, which would make it easier to declare districts "distressed" and put them under state control – handed off to for-profit companies with political ties to Harrisburg. In our struggle to protect the students of Pennsylvania, we are all Upper Darby.
Dr. Cheryl Wanko is a Professor of English at West Chester University and is a supporter of public education at all levels.